Actor Pınar learns Welsh for new theatre production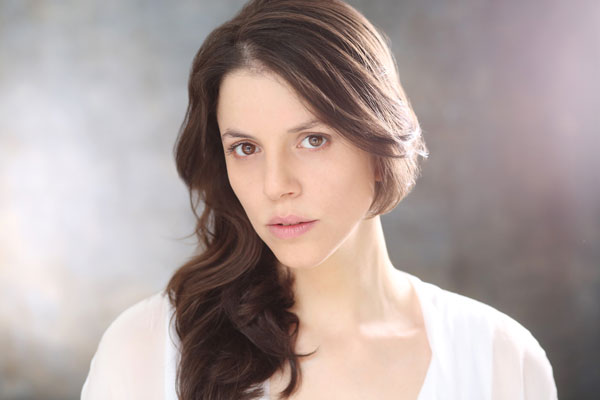 Meet Pınar Öğün, one of the actors in the new Welsh language Theatr Genedlaethol Cymru production of Y Cylch Sialc, (The Caucasian Chalk Circle):
Tell us a little about your background.
I'm from Turkey. I studied acting at LAMDA and then lived in London for three years. But then I went back to Istanbul, Turkey and started working in television and theatre. Unfortunately, I went through some hard times because of the theatre show Mi Minor. So in 2013 I moved to Cardiff to be safer and start a new life.

Why did you want to learn Welsh?
I started learning Welsh when I was cast in the S4C show Un Bore Mercher (Keeping Faith). I played the role of the dentist, Meral Alpay, for four episodes. It was an exciting opportunity. I then decided to learn Welsh. It's very difficult but I kept on practising. Now that I live in Wales and it's my home I think it's essential to learn Welsh. I enjoy speaking Welsh and want to improve.

How/where did you learn?
At first I started speaking Welsh with the help of my friend, who's learnt to speak Welsh herself as an adult. She helped me learn to say what I wanted to say. And then I went to Welsh lessons with Cardiff University for a month.
I then heard about the app 'Say something in Welsh', and that changed everything. I'm starting to feel more confident when I want to say something in Welsh. Of course, I speak quite slowly and have to think quite a lot, so that can stop me often. I can't remember how to say something, or how to say a full sentence.  

When and where do you use your Welsh?
I can't say that I speak Welsh every day, because I'm still learning. But I understand what people around me are saying, which is fabulous! I'm rehearsing at the moment for the play Y Cylch Sialc (a Welsh translation of 'The Caucasian Chalk Circle' by Brecht) with Theatr Genedlaethol Cymru. It's incredible how the process is helping me! Everyone speaks Welsh in the rehearsals and it's interesting how it's helping me improve.

What are your favourite and worst things?
I like to have some peace of mind. I hate feeling anxious.

What do you like doing in your spare time?
I enjoy travelling by train to Europe. When I can't do that, I just enjoy sitting at home.

What's your favourite Welsh book?
I haven't started reading books in Welsh yet. But I'd like to read Llyfr Glas Nebo because I've heard it's brilliant and interesting.

What's your favourite Welsh word?
Hiraeth ❤️ - a Welsh word that roughly translates as 'longing' or 'homesickness'.

Do you have any advice for Welsh learners?
Try to learn simple sentences, speak slowly with people and if you make mistakes, just laugh.

Describe yourself in three words.
Who can?