Learn Welsh with us
We offer a wide range of courses across Cardiff. From courses for complete beginners, to courses for fluent Welsh speakers who would like to improve their Welsh. There are several options available:  50% in the classroom and 50% online, weekly courses, intensive courses, two week courses, and many more.
We offer opportunities throughout the year for learners to practise their Welsh outside the classroom, such as Saturday Courses, Reading Clubs, Coffee and a Chat and a variety of other activities.
Come and join a course and we will make every effort to support you on your journey to learn Welsh. Please don't hesitate to contact us if you need advice: 029 2087 4710  info@learnwelsh.co.uk
Welsh Taster Courses
Would you like to try your hand at Welsh before the National Eisteddfod comes to town, or would you just like a little taste of the language this summer? Click on the picture, and choose from a list of 15 Welsh Taster Courses across Cardiff! Click on the course code within the PDF to enrol.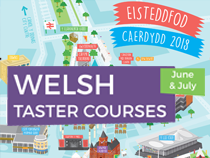 Cardiff University's Summer Course
Why not join us this year on Cardiff University's Summer Course? All the information regarding the course is below. If you have any questions or queries you're very welcome to contact us. Please note if Firefox is your browser, to open one of the buttons below, please click on a button, and open the page by clicking on the download button in the right hand corner of your browser (↓).
My wife speaks Welsh and we have 2 young boys and it would be great to be able to speak to them in Welsh and help them with their homework.

Martin Kitchener
Clywed gan y dysgwyr
You can also contact us by filling in this form.