A chat with Chief Executive of Pembrokeshire County Council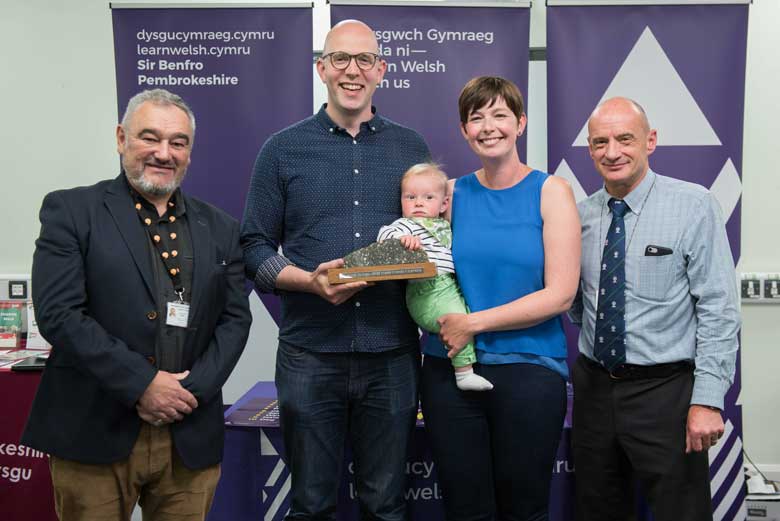 Where did you come from?
I was born and bred in Newport, Gwent.
What is your background?
There wasn't much Welsh in the area and I even remember having to sing 'God Save The Queen' in school which looking back was a great shame! I remember hearing the Welsh language when I was about eleven and thought how amazing it was that another language existed in Wales besides English that was part of our history and heritage.
Why did you want to learn Welsh?
To be able to communicate bilingually on public occasions and be able to sing 'Mae Hen Wlad Fy Nhadau' at international matches with pride.
How/ Where did you learn Welsh?
I'm still learning Welsh and am studying on the foundation level. I've had some amazing experiences such as attending courses at 'Nant Gwrtheyrn' and had a wonderful time improving my Welsh and learning more about Welsh history and culture. I passed my Entry level exam with the help of my brilliant tutor Mairwen and hope to sit the foundation exam in the future with the help of Rhian and Tomos.
Where and when do you use your Welsh?
I use my Welsh whilst making electoral declarations, in cabinet meetings and greeting people on a daily basis. I make an effort to use my Welsh at every occasion, I'm not perfect but hopefully the more I practise the better I'll get.
What's your favourite thing and your worst thing?
My favourite thing is sports, especially football and my biggest dislike is inequality of any kind.
What do you enjoy doing in your spare time?
I enjoy playing football, spending time with the family and doing building renovations.
Favourite Welsh book?
At the moment 'Cwrs Sylfaen' South Wales version of course!
Favourite Welsh word(s)?
Llongyfarchiadau (Congratulations) and anghydraddoldeb (inequality)
Any advice for Welsh learners?
Keep at it! Push yourself! Learning Welsh does take time but there are many benefits. Learning Welsh is "light relief" during a busy working day and gives me a chance to communicate with my colleagues under different circumstances. It's great for team building and it's a great feeling to be part of a group who are trying to achieve the same goal. I would advise anyone who isn't learning Welsh to give it a go.
Describe yourself in three words
Friendly, fair and determined (to learn Welsh)
Photo description
Cris Tomos and Chief Executive Ian Westley (on the right) congratulating Pembrokeshire Welsh Leaners of the Year 2018, Meg and Ross McFarlane (and Griff).