A move to Llantwit inspires retired Army Officer and RAF engineering manager to learn Welsh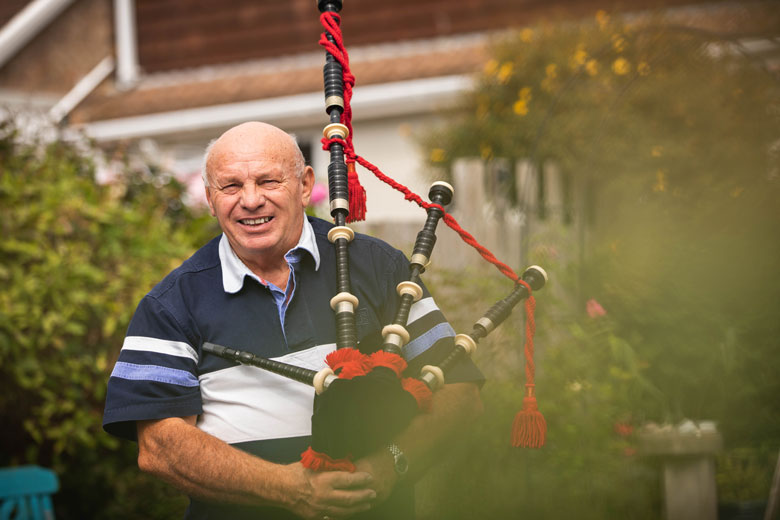 Bilingual signs in Llantwit Major first inspired Ben Lawson, originally from West Lothian, Scotland to learn Welsh.
Ben, who worked as a manager with the RAF, moved to Llantwit in 2013 to enjoy retirement with his wife, Pamela.
The many bilingual signs in the town raised his interest in the language, and Ben signed up for a course with Learn Welsh The Vale, run by the Vale of Glamorgan Council on behalf of the National Centre for Learning Welsh.
With no prior experience of the language, Ben has completed five Learn Welsh courses.  Ben now feels confident speaking the language and is able to practise speaking Welsh several times a week, due to the different opportunities, such as coffee mornings and quizzes, to use the language locally.
Ben, who got to know Llantwit Major while visiting the MOD in St Athan with his work, explains:  "When I first moved to Llantwit, it dawned on me that I had moved to a country where I couldn't speak the language. I wanted to understand Welsh signs, rather than rely on the English translations.  My wife's Welsh relatives can't speak the language - I wanted to be the first in the family."
Ben is full of praise for his tutors.  He says:  
"The tutors are fantastic – I wouldn't be where I am now, without them. The other learners are so enthusiastic, supportive, and a lot of fun to be around, too. We meet two to three times a week and I really enjoy learning alongside them."
Ben took part in last year's National Eisteddfod, held in Cardiff Bay, competing in the Welsh Learner's Choir, and he couldn't be prouder of his progress with the language: "It was great fun, and such an achievement for me.  I never thought learning Welsh locally would mean things like this would happen."
Ben's advice to anyone learning Welsh is to persevere.  He says:
"Use the language as much as possible, and always try your best. Everybody I've come across is so helpful and people don't mind if you make mistakes, or ask them to speak more slowly."
Ben also teaches bagpipes to boys in the Boys Brigade where he is an officer.  Ben makes the most of the opportunities available to speak Welsh with members of the Boys Brigade who attend Welsh-medium schools in the area.
Ben is a keen supporter of the Welsh Government's vision to create a million Welsh speakers by 2050.  He says:
"If people of all ages and abilities learn Welsh, it's achievable. It's a beautiful language and I'd encourage anyone to learn it."