Ask Ana from Patagonia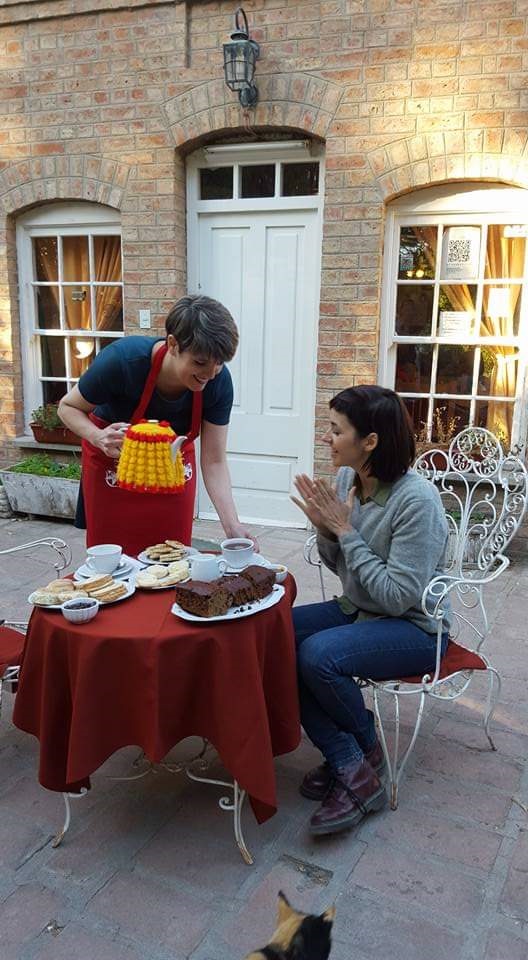 Let's find bit a bit more about Ana Chiabrando Rees:  
Where do you come from and what is your background?
I'm originally from La Plata, Argentina, but my mother and her family are all of Welsh descent.
When and where do you use your Welsh?
I speak Welsh in the Welsh lessons, when I work at Ysgol yr Hendre, Trelew, and with friends and visitors from Wales when they come to the tŷ te (tea house) and hotel that I run.

What do you like and dislike?
My favourite thing is cats. I hate spiders.

What kind of foods do you like to cook?
Mostly sweets, but I like cooking pizza and Indian food too after trying it in Wales.
What would be your ideal meal?
In winter, chicken curry would be ideal and in the summer, a pizza with lots of different toppings.
Do you have any special Christmas traditions related to food?
As it is usually hot here, we make asado, some kind of barbecue, but I don't eat beef or lamb, so I eat cold food, which is usually made with lots of vegetables. And for dessert, ice cream every time, and a choice of cakes and sweet treats to finish.


What is your favourite Welsh book?
There are so many Welsh books I love, I can't choose, but I have favourite authors: Mihangel Morgan, Manon Steffan Ros and Bethan Gwanas, but I read every novel that reaches my hands, and thoroughly enjoy all of them.
What is your favourite Welsh word?
Hiraeth (longing)
Do you have any advice for Welsh learners?
Read! That's the best way to expand vocabulary and learn about different ways of saying the words in Welsh, and about different dialects.
Describe yourself in three words
Enthusiastic, active and friendly.