Ask Anna Ng, winner of the Bobi Jones Medal at the 2022 Denbighshire Urdd Eisteddfod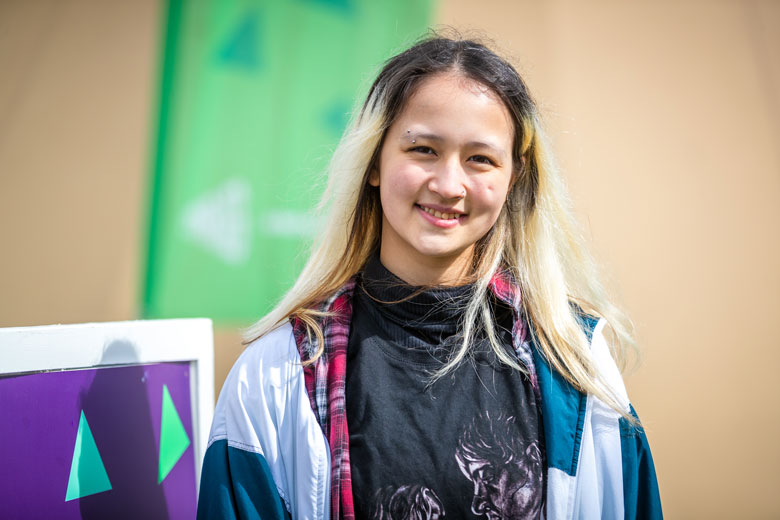 Anna Ng from Cardiff won the Bobi Jones Medal for Welsh learners at the 2022 Urdd Eisteddfod in Denbigh.
Congratulations on winning the Bobi Jones Medal.  What was it like to step on stage to receive your prize?
It was an amazing experience to win the award. I had never been to the Urdd Eisteddfod before and it was a whole new experience for me. I really enjoyed it.
Do you have opportunity to use Welsh outside of school?
Yes. I am a member of the county orchestra, and I have friends from Ysgol Glantaf Welsh comprehensive there. I speak Welsh with them, and I try to speak Welsh with my mother, who is also learning Welsh.
What has helped you the most in learning Welsh?
Starting A Level Welsh was a bit of a shock after GCSE, and it was a lot harder. One thing that really helped me was reading Welsh books.
My friends from Ysgol Glantaf had recommended Welsh books to me, and that has helped me get used to different dialects. One of my favorite books was Craciau by Bet Jones.
Over the summer, I hope to read Un Nos Ola Leuad by Caradog Prichard.
Who is your favourite Welsh band?
I don't have a favourite band, but my favourite singer is Gwenno. I really enjoy her music.
What is your favorite Welsh television programme?
I enjoyed the comedy series Jam on Hansh and right now, I'm watching drama Enid a Lucy, which is great!
If I want something 'easy-viewing', I'll watch Ffit Cymru.
Do you have a favorite Welsh account on social media?
I follow Hansh on TikTok and Instagram because they discuss topics that are relevant and of interest to young people - all through the medium of Welsh.
What's the best thing about speaking Welsh?
I love the way it sounds and also the history. And I just think the language is interesting - in terms of how the words are put together and how the grammar is so different from other languages.
What's next for you on your language journey?
I want to carry on learning Welsh, and enjoying Welsh programmes on S4C.
I also hope to start at Cambridge University in September, if I get the grades, and would like to join the Mabinogion Welsh Society. They offer Welsh lessons and many people learn Welsh there.