Ask Haley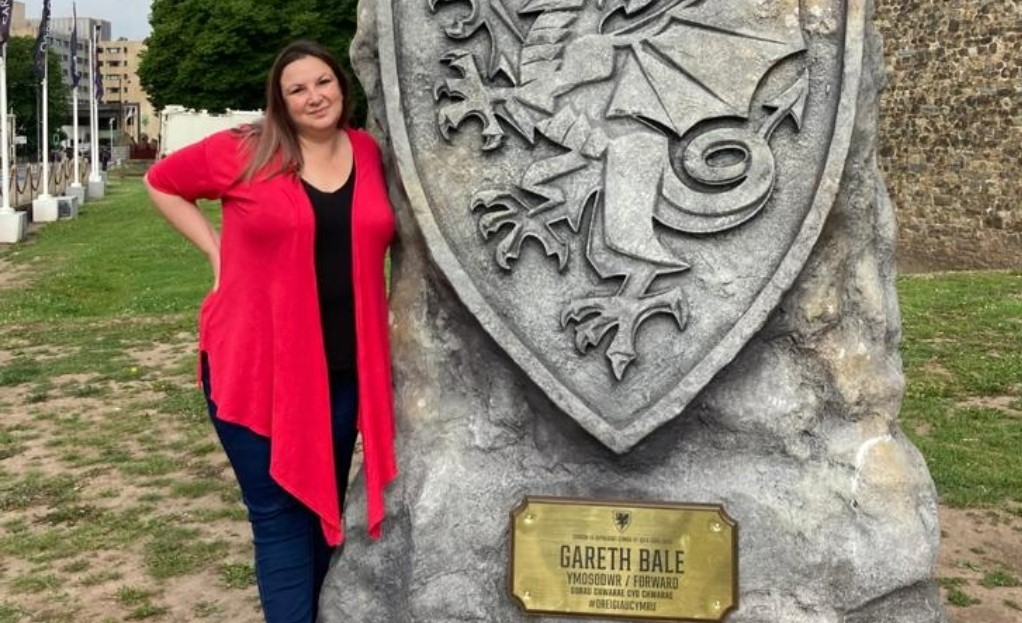 Here, we chat to Haley Evans, who's from Caerphilly and learning Welsh with Duolingo.  She's a big fan of the Wales national football team and has set up a business selling football-themed clothing for women. 
Where do you learn Welsh?
Currently, I learn Welsh on the commute to my day job in Newport – I get on the train from Cardiff and open up Duolingo.  I can normally do a couple of sessions each morning.  I'm lucky in that the legal company I work for encourages Cymraeg and I have Welsh-speaking colleagues who are happy to help me.
What's the best thing about learning Welsh?
Our language is something to be proud of.  The more Welsh I can understand, the happier I feel.
Do you use Welsh outside of the class?
I have Cymraeg around the house – from a 'croeso' (welcome) doormat, 'hapus '(happy) cushions and some magnets spelling out 'dw i'n hoffi pêl-droed' (I like football) on the fridge.  I always sign things off with 'diolch' (thank you) and try to message Welsh-speaking friends and colleagues in Welsh as much as I can.
Do you use any Welsh in your business?
I do – many of our t-shirts are in Cymraeg, including the World Cup tees, and I very rarely refer to Wales as anything but Cymru.  My website is even feWales.cymru.
Where do you get your ideas from to design the clothing?
I've always been quite creative so the ideas come fairly quickly, putting them into action is another thing.  It's easy to be inspired by both the men's and women's Cymru teams.
When did you begin to show an interest in the Welsh football team?
Football has always been something I've been brought up with.  I went to my first home game in 1999, and my first away trip was in 2003.  It's very rare that I miss a game.
Why did you set up the clothing company?
Because there wasn't anything available for women.  There used to be plenty of merchandise for women years ago, but then it all disappeared.  After years of there being nothing, I just decided I would do it myself. 
Did you expect the venture to become so popular?
No, I didn't.  I had hoped it would fill a gap and that some people would like it, but it's been so warmly received over the years and I've made some wonderful friends.
What's your next step with learning Welsh?
To keep going and gain more confidence.  I have seen friends of mine learn and who now speak Welsh confidently, and I'd love to get to that stage.
Any advice for those who are keen to start learning Welsh?
Just jump in, even if it's little bits at a time, it will make all the difference.  Don't be afraid to make mistakes because all the Welsh speakers I know have been so supportive and happy to help.