Ask Huw Aaron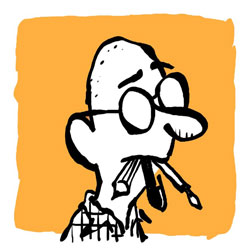 Where are you from? 
I'm a Swansea Jack, but have now settled in Cardiff. I'm married to Luned, and we have two girls, Eos and Olwen. I'm a cartoonist, artist and children's author.
Where did your interest in drawing come from?
I can't remember a time when I wasn't drawing cartoons, creating silly stories and doodling characters from the books I was reading at the time. I'm so thankful (and still surprised) that this is now my day job – I never thought it would be possible when I was growing up.
What have you been working on for Welsh Language Music Day?
I have re-booted the characters Seren and Sbarc, and created a short comic, as well as an animated music video to go with a new song by Osain Huw from Candelas, and Casia Wiliam. I had a blast!
Your ambition?
To create stories full of humour, warmth and wonder.

Your favourite and worst things?
Favourite thing:  My children dancing and laughing.
Worst thing:   My children dancing and laughing at 3am.
What are your hobbies?
Nothing better than getting lost in a good book.
The most interesting person you've met? 
I had the opportunity to work with the wonderful illustrator and Children's Laureate, Chris Riddell, which was a real honour.
Your favourite Welsh song?
'Swynol' by Texas Radio Band.
Why is Welsh Language Music Day important?
It's a brilliant opportunity to introduce great bands and musicians to a new audience.

Your favourite place?
I love the beaches on the Gower peninsula, Portmeirion, Rajasthan, Marrakesh… but there's no place like home!
Your favourite Welsh word?
Cnec!

Describe yourself in three words
Over-confident. Under-confident. Indecisive.