Ask Lois Arnold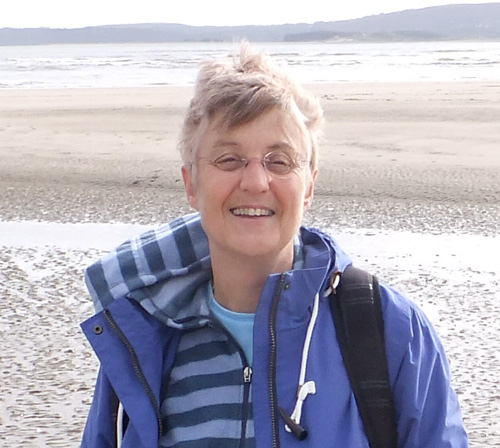 Lois Arnold is originally from England. She was born in Surrey and raised in Stevenage in Yorkshire.
Lois won the Learner of the Year award at the Newport National Eisteddfod in 2004. She's one of 36 Welsh learners who have won the award since it was launched 40 years ago.
We had a chat with Lois to hear more about her language journey.
When did you start learning Welsh?
I started learning Welsh in Gwent when I moved to Wales (to Abergavenny) in 1997.
What do you remember about the day you won the Learner of the Year award?
I remember being extremely nervous!  But I had fun, too. There was a group of four of us who had made it to the final. Everyone was so lovely and supportive of each other.
It was a shock when the judges announced I had won!  I hadn't prepared anything to say when I went on the stage and received the award.  I'm sure I said something stupid!
But I was very proud - of myself and everyone else who'd made it to the final.
What difference did the award make to you?
Winning the award gave me confidence and inspired me to do more for the language.
I had several invitations to go and speak to various groups, both learners and Welsh speakers.  It was lovely to meet so many enthusiastic people.
I also did interviews on television and radio - a rather scary experience!  But, I was very proud of the opportunity to tell 'the world' that it is possible to learn Welsh and that learners have an important role to play in the Welsh community and in the future of the language.
I was even invited to Buckingham Palace, to the Queen's Christmas party!  I spoke to a couple of members of the royal family about the language. One of them was surprised that books were published in Welsh!
The following year, I had the privilege of being invited to be a member of the National Eisteddfod's Gorsedd y Beirdd. I was so proud. I was very emotional during the ceremony - and the lovely late Ray Gravell as Keeper of the Sword at the time was the icing on the cake!
How did you continue with your Welsh after winning the award?
Since then, I have done so much. I was a member of a group that established a new Menter Iaith language initiative in 2007, Menter Iaith Blaenau Gwent, Torfaen and Monmouthshire. I was the first chair of this new menter.
Until recently, I've worked as a Learn Welsh tutor for adults, and have really enjoyed it.  I've written novels and short stories for Welsh learners (published by Gomer, y Lolfa and Gwasg Carreg Gwalch). I had never written fiction before learning Welsh, and it has been a great pleasure.
I enjoy talking to reading groups about books and inspiring them to write, too.
I now live in Carmarthenshire and many of my friends and neighbours speak Welsh. I volunteer with Age Cymru and run fitness and Tai Chi classes for older people. Many of those who attend are Welsh speakers, and I'd like to start running sessions in Welsh in the future.
I like to sing in my spare time, and I love singing in Welsh with local choirs.
What's your advice for people who are learning Welsh?
My advice to learners: enjoy the journey!  It takes time to learn, so don't be discouraged if it sometimes feels difficult.
Find ways to enjoy the language - television, radio, reading, music, concerts, online speaking groups... Keep at it and you will succeed!
What, in your opinion, is most important to consider when awarding the Learner of the Year?
The ability to speak Welsh well and communicate effectively is very important, of course.
But enthusiasm and love for the language is just as important.  Perhaps more important than perfect accuracy.
Learners of the Year are ambassadors for the language, and it is hoped they will go on to inspire many other people.
The competition is open to learners aged 18 and above who are confident using the language in their everyday lives.  Individuals can nominate themselves; a relative, friend, colleague or tutor can also make a nomination. 
The initial round will be held virtually on 11 and 12 May, with the final round held at the Eisteddfod on Wednesday, 9 August, with the judges: radio presenter, Tudur Owen; Liz Saville Roberts MP; and Geraint Wilson-Price, head of Learn Welsh Gwent.  The winner will be announced the same day.
The competition is organised by the Eisteddfod and the National Centre for Learning Welsh. 
The application form is on the Eisteddfod's website, and the closing date is 1 May.