Ask Martyn Croydon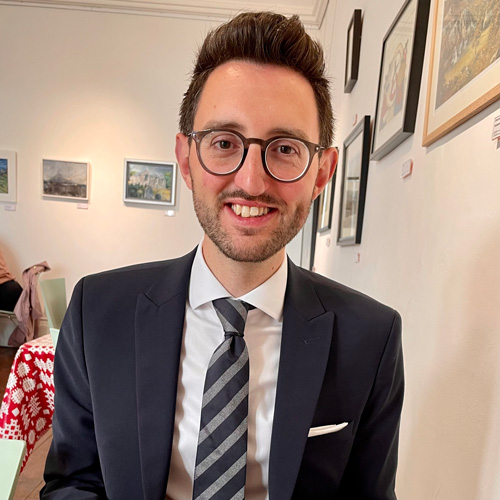 Martyn Croydon is originally from Kidderminster, which is between Birmingham and the Wales/England border.  Martyn now lives with his family on the Llŷn Peninsula and works as a Learn Welsh tutor for adults.
Martyn's family used to go to Pwllheli on holiday and he remembers going there with his great grandparents when he was a small child.
We caught up with him to learn more about his Welsh language journey.
When did you start learning Welsh?
I started learning online when I was still living in England. After moving to Wales in 2009, I started going to classes at the college in Pwllheli.
At which Eisteddfod did you win the Learner of the Year Award?
I won at the Denbigh and District National Eisteddfod in 2013.
What do you remember about the day?
I remember waiting a long time for the result on the night! We'd had a lovely meal in a grand marquee outside a hotel near Denbigh and I was fully expecting the name of one of the other semi-finalists to be announced. I was very shocked when they said I had won!
What difference did the award make to you?
After the award, I had a great year travelling all around Wales, talking to different groups and answering their questions - I really enjoyed that.
Everyone was very nice saying how much they appreciated the effort I had made to learn the language. That was very encouraging for me at the start of my job as a Learn Welsh tutor.
How have you used your Welsh since winning the award?
I had reached the point where I spoke Welsh every day before the competition but now I'm married to a Welsh speaker, we have two children and I work full-time doing something that means so much to me - all through the medium of Welsh.
It's easy to go for days without speaking English.  Speaking Welsh feels so natural now.
But, sometimes, I stop and think, 'wow, I've done all this in such a special language and in my favorite place in the world'. I feel very, very lucky.
What is your advice for people who are learning Welsh?
Keep going, and even though the journey is not always easy, enjoy every success (no matter how small).
You must speak whatever Welsh you have, as much as possible, from the start.
When you reach Intermediate level, find one person with whom you can only speak Welsh to (it won't be easy at first but things will improve if you keep at it!).
This gave me a big boost and helped me hold longer conversations about different topics. These days, the 'Siarad' scheme run by the National Centre for Learning Welsh is great for this.
What, in your opinion, is the most important element to consider when awarding the Learner of the Year?
Hearing the stories of the people in the semi-final every year is so inspiring and I always think how difficult it would be if I had to choose a winner.
I would probably reward someone who really makes an effort to go out into the community where they live and use the language.
The competition is open to learners aged 18 and above who are confident using the language in their everyday lives.  Individuals can nominate themselves; a relative, friend, colleague or tutor can also make a nomination. 
The initial round will be held virtually on 11 and 12 May, with the final round held at the Eisteddfod on Wednesday, 9 August, with the judges: radio presenter, Tudur Owen; Liz Saville Roberts MP; and Geraint Wilson-Price, head of Learn Welsh Gwent.  The winner will be announced on the same day.
The competition is organised by the Eisteddfod and the National Centre for Learning Welsh. 
The application form is on the Eisteddfod's website, and the closing date is 1 May.