Ask Tom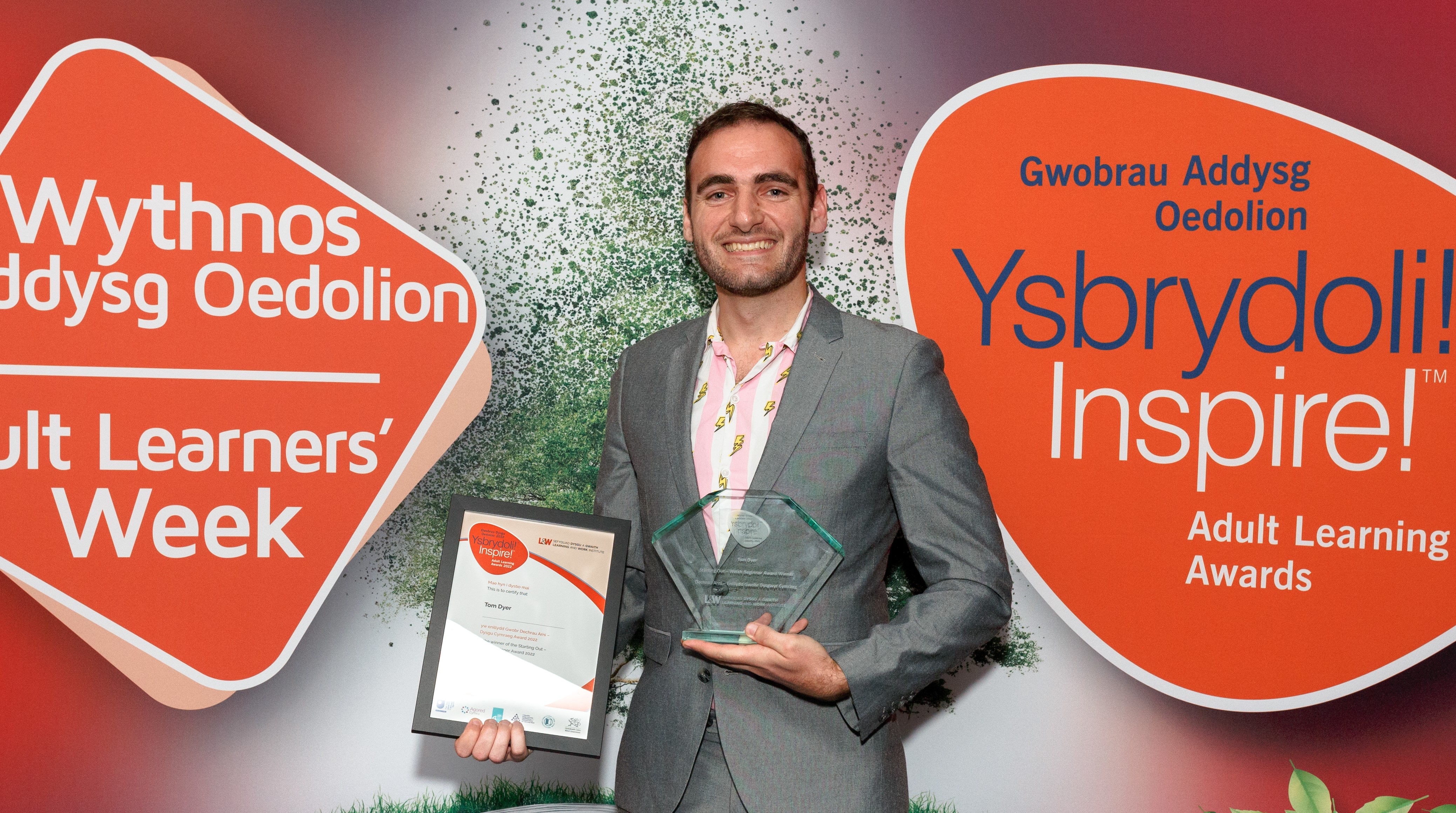 Here, we chat to Tom Dyer, winner of the Inspire! Awards 'Starting Out – Welsh Learner' Category.  Tom follows an Intermediate level class with Learn Welsh Pembrokeshire and presents a Radio Show on Pure West Radio.
What's the best thing about learning Welsh?
The best thing is how much more connected to Wales I feel.  I'm proud to be Welsh and having the opportunity to learn the language and feel pride in knowing more about the country I live in makes me feel even more proud.
This is closely followed by meeting new people who are also on their learning journeys and making friendships through the language.  My girlfriend, Helen, is first language Welsh and I can now chat with her in Welsh.
How did it feel when you were told you had won the award?
I didn't believe it!  Learn Welsh Pembrokeshire had already awarded me their Best Effort Award which I was immensely proud of.  To then find out I had been awarded a national award didn't feel real.  My thanks go to Tomos, Siân and the crew at Learn Welsh Pembrokeshire for the nomination.  I've only received this because they keep me engaged and wanting to learn the language.
Why did you decide to start learning Welsh?
When I started presenting on Pure West Radio during the pandemic, they were looking for people to learn Welsh for a new feature.  I signed up thinking it would be a couple of weeks' commitment and three years later, I'm still really enjoying it.
How often, and where do you use your Welsh outside the class?
I use short Welsh phrases on the radio and I speak with Helen daily in Welsh.  I also watch sports and the Heno magazine show on S4C.  I've also been enjoying 'Nôl i'r Gwersyll', a series about the Urdd residential camp in Llangrannog, as I've recognised a few faces in the programme!
Any advice for learners who would like to give learning Welsh a go?
Do it.  The timings of the courses are so flexible, the workbooks are easy to follow and the tutors are very passionate.  You will be with people who want to learn and you'll encourage each other.
What's the next step for you with learning Welsh?
Continue to learn and possibly sit the Intermediate level exam before signing up to the Advanced level class.  I would like to attend more of the informal learning activities such as the walking and reading groups.  One day I would like to sing in Welsh too.
Would you like to introduce more Welsh into the radio programme one day?
I would love to do a show that is both Welsh and English.  Maybe one day I'll take over the Gwlad y Gân show on Pure West Radio and do a show completely in Welsh!  I'd love to do television and radio work in Welsh also, either commentary on sports or a documentary.
Your favourite Welsh word?
Defnyddio (use) because I like how it sounds.  I use Welsh every day in some form or another.  I  have learnt a new language and I intend on using it.