Becky Evans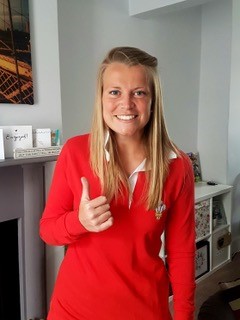 Yorkshire roots, fluent in Welsh!
A civil engineer originally from North Yorkshire is among the growing number of Welsh learners undertaking virtual and online courses under the auspices of the National Centre for Learning Welsh.
Rebecca "Becky" Evans, who was born and raised in Harrogate, started learning Welsh after meeting her Anglesey-born fiancé Huw. The couple were working as civil engineers on the A483 Newtown bypass in mid Wales when they struck up their relationship four years ago.
"Meeting Huw and his family and friends meant that I was immediately immersed in the Welsh language," says Becky, 29. "It seemed only natural that I should join in and learn to speak it too."
By regularly practising at home with Huw, Becky was soon conversing in Welsh. She then decided to take her learning a stage further by enrolling on an Entry Level course for beginners, provided by the National Centre for Learning Welsh. Work then took her back to Birmingham for six months where she continued to follow a course in the company of 20 fellow Welsh learners.
Then two years ago, after she moved to live with Huw in Cardiff, Becky took up a course at the next level, Foundation, with Learn Welsh Cardiff, which is run by Cardiff University on behalf of the National Centre for Learning Welsh. Becky has made fast progress and recently started the Advanced level course, which will end in 2022.
"I'm thoroughly enjoying it," says Becky. "Before Covid, we were all in a class environment; now we take part virtually in weekly Zoom lessons which work extremely well. We still see each other albeit on screen, and as well as full class engagement, we also have smaller breakout sessions, which is a great way to hone our fluency. We have a brilliant tutor called Mair who is extremely encouraging and supportive."
Today Becky, who studied civil engineering at Loughborough University, is already a fluent Welsh speaker. She speaks Welsh with a North Walian accent and is aware of the linguistic nuances between north and south, something that provides an added talking point to the online classes.
Yet when Becky speaks in English there's no mistaking the distinctive vowels of North Yorkshire. "I'd be very disappointed if you didn't spot that!" she laughs.
Becky also has Welsh family connections in Harrogate. "My grandparents on dad's side are both originally from Pembrokeshire," she explains. "They don't speak Welsh themselves, but are very proud of the fact that I'm learning." 
Becky is currently homeworking on the new East-West rail link project between Oxford and Cambridge. She and Huw are planning to get married next April, having postponed the original date in July this year because of the pandemic. 
"The wedding will be held in Harrogate and the service will be in both Welsh and English - a bit of a first for my local church!" 
Ends
Notes to Editors
During Lockdown, there has been a significant increase in the numbers learning Welsh via digital means with the National Centre for Learning Welsh and its course providers.  Around 8,000 new learners have followed online taster courses, with around 900 new learners following new national "blended learning' courses, which combine learning in a virtual classroom with online self-study modules.
The National Centre for Learning Welsh is funded by the Welsh Government and hosted by the University of Wales Trinity Saint David. The Centre is responsible for all aspects of the Learn Welsh sector and works with 11 course providers across Wales, which deliver courses on its behalf.
Learn Welsh Cardiff is run by Cardiff University on behalf of the National Centre for Learning Welsh.
New Welsh courses in virtual classrooms are starting soon; people can also follow free online courses and access a range of digital learning resources – they can go to https://learnwelsh.cymru for all the information.