#cariadcymraeg #lovewelsh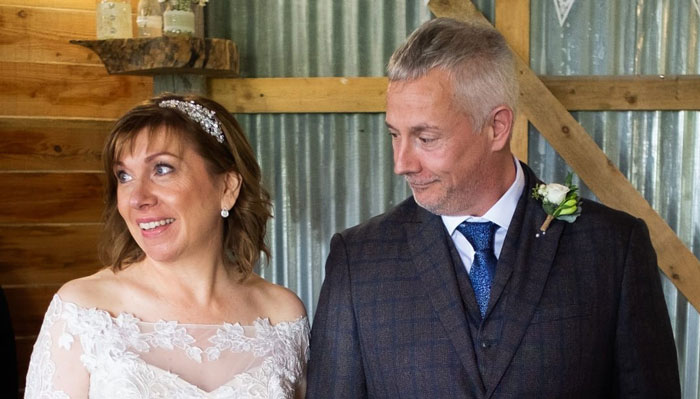 How learning Welsh brought one couple together….
On St Dwynwen's Day, which celebrates the Welsh Patron Saint of Lovers, a Pembrokeshire couple, who married last September, have spoken about how their love blossomed – all while learning Welsh.
Helen and André Reemers live near Croesgoch, between St Davids and Fishguard in Pembrokeshire and both feel that learning Welsh has bought them close together – so much so, that André proposed to Helen in their learned language.
André said: "I proposed in Welsh, having used Google translate as my guide, which led to a 'lecture' on mutations - clearly missing the point of my proposal!  Luckily, Helen recovered and said yes after all."
Helen started learning Welsh in 2001 when an illness meant she moved home to the family farm in Pembrokeshire. She said "I got really ill in 2000 when I was working for the BBC as a journalist. I came to Pembrokeshire to recover with my parents, who moved here in 1993 from Hereford. I felt really low and had lost my confidence. My mum suggested I learn Welsh, so I went to a class in St Davids and was soon 'hooked' on the language. In 2006, I got to the final four in the Welsh Learner of the Year competition. I enjoy performing, and won first prize for reciting at the National Eisteddfod in Cardiff in 2018. I'm looking forward to competing at Llanrwst this year as well.
Helen and André were married in September 2018. André is following an Entry level Course in Fishguard, with Helen as his tutor.  Helen says, "It's wonderful having André in my class. He's originally from the Netherlands and speaks English, German and Dutch of course! So he's very good with Welsh and is determined to be fluent, but he's very mischievous in class!! André can now use Welsh at work and at home with me!"
André said: "I feel it's important to at least try and learn the language of the country I live in. Although English is the most common language in Pembrokeshire, I believe every effort should be made to preserve and promote the Welsh language. It also benefits me in my workplace when supporting people that have Welsh as their first language.
"With my wife being the tutor, it actually helps me as we are able to use more Welsh at home. Helen as a previous learner has shown how much it can enrich your life and open up new opportunities.
"We do practise together, and I enjoy using more and more Welsh. I am also starting conversations in Welsh and Helen will respond in Welsh. The most difficult thing about learning Welsh is getting used to the singular often being a longer word than the plural!
"Helen takes great pride in teaching Welsh and is a perfectionist. She is a great advocate for the Welsh language and culture as a whole. I love the fact it's a language steeped in tradition and built on great pride in the nation."
Kevin Davies, Head of Learn Welsh Pembrokeshire, which delivers courses in the area on behalf of the National Centre for Learning Welsh, adds: "There are lots of reasons why people learn Welsh – and it's clear to us that often people learn for romantic ones!"
Click here to listen to Helen's interview with Shan Cothi on Radio Cymru on St Dwynwen's Day. The interview is about 1 hour 50 minutes into the programme.