Confidence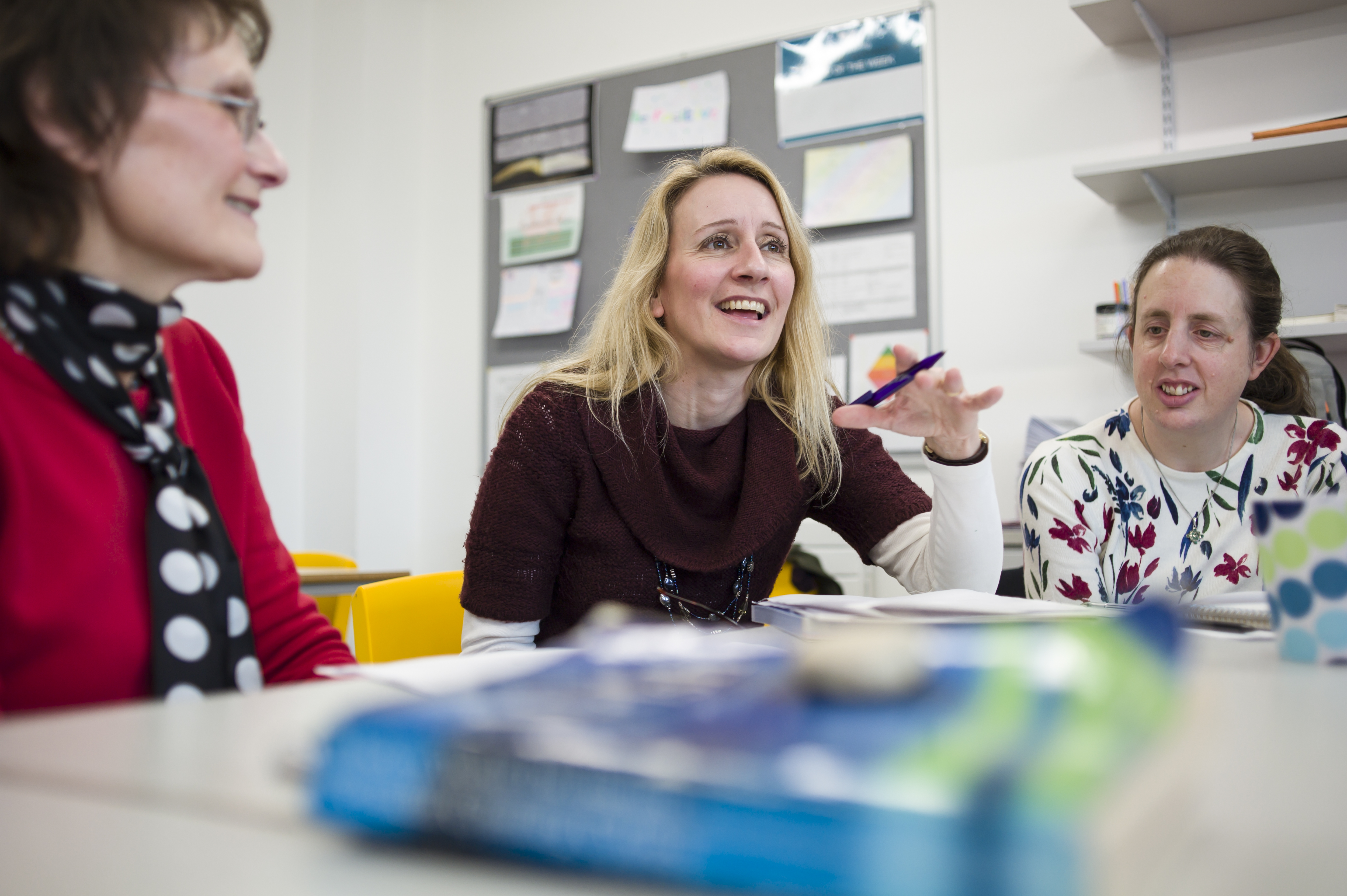 This article was first published in the Western Mail on Wednesday, 27 February 2019
Helen Prosser, Director of Teaching and Learning at the National Centre for Learning Welsh, talks about the importance of confidence when it comes to learning the language.
Building confidence to use and enjoy your Welsh
Julie Andrews, as Maria in The Sound of Music, sang famously about the importance of having 'confidence in me' and confidence – or building confidence – is something we come across often in the context of learning, using and enjoying the Welsh language.
As an adult who may have left formal learning some time ago, it can take confidence to walk through the door, back into the classroom. Some people will be thinking of their school days, and reassuring them that our Welsh courses are run in an informal, friendly way is a top priority.  Our emphasis is on speaking and enjoying the Welsh language, and that's right from the off.
When people lack confidence in their own ability to learn a new subject such as Welsh, our answer is that anyone can learn.  To continue The Sound of Music theme, learning a new language is like learning to play a musical instrument - it takes lots of practice!  But all that hard work pays off, and as well as our courses, we provide countless opportunities for people to practise their Welsh outside the classroom.
Next weekend (1-3 March), over 50 families will be attending our annual 'Welsh for the Family' residential weekend at the Urdd camp in Llangrannog.  This popular event comprises language workshops for parents who are learning, while activities are on hand for their children.  Overall, it's about building confidence to use the language in a relaxed, social setting and about encouraging our learners to think about how they can increase their use of Welsh within the family. 
During the Spring, we're organising a series of guided walks for Welsh learners in different parts of Wales, while on 6 April, a one-day festival for Welsh learners, 'Ar Lafar', (the Welsh for 'spoken') offers further opportunities for people to practise their Welsh.  Held in partnership with Amgueddfa Cymru – National Museum Wales and the National Library of Wales, the event takes place across four sites - St Fagans National Museum of History, the National Slate Museum in Llanberis, National Wool Museum in Felin Fach and National Library of Wales, Aberystwyth – and provides an authentic learning experience.
With Welsh, we find that people often underestimate how much they already know, or they downplay their skills.  The Welsh language is all around us, in place names, road signs and advertising, in schools, libraries, GP surgeries and the community in general.  As well as Welsh-medium schools, Welsh has also been taught at GCSE level in English-medium schools since 1999, and so many, many people already have some knowledge of Welsh.
Getting people through the door is one thing, but confidence continues to play a part as people progress through our Welsh courses, moving from level to level.
Our new scheme 'Siarad' (the Welsh word for 'speak') gives learners at Intermediate and above levels the opportunity to practise their Welsh with fluent Welsh speakers.  This voluntary scheme matches fluent speakers with learners, with pairs committing to meet for 10 hours over several months to chat and enjoy activities such as music gigs or plays through the medium of Welsh.  Initial feedback has been positive from the learners and  Welsh speakers alike, with everyone feeling they have gained more confidence.  Not all Welsh speakers feel confident speaking with learners and this is work we need to develop in the future.
Many of our learners say that learning to speak Welsh has given them greater confidence in all areas of their lives, and alongside our partners such as the Learning and Work Institute, we can certainly attest to the transformative power of adult learning.
Over the coming months, hundreds of informal Welsh language learning activities will take place in communities across Wales, with intensive courses held over the summer months before new mainstream courses start in September.  Throughout this period, our focus will be on confidence - building confidence to start learning and to continue learning and enjoying speaking Welsh.  As one learner told me this week, "I have now stopped asking people 'May I help?', and I simply ask, with confidence, 'Ga i helpu?'" 
Ends
To find a Welsh course or opportunities to practise your Welsh locally, go to learnwelsh.cymru. Get started with our free online courses, which are also available on our website.