Competition for learners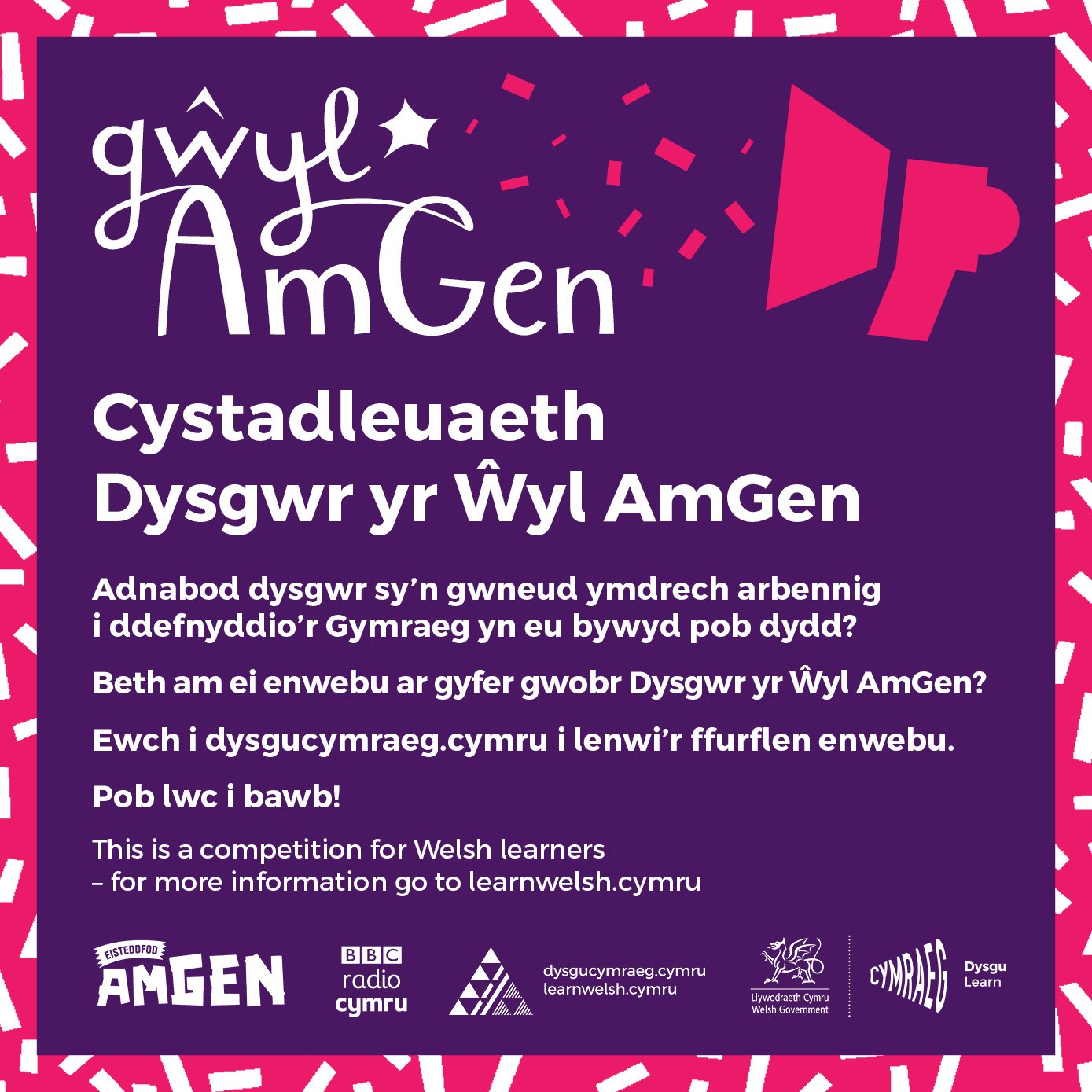 Welcoming Welsh learners from Wales and
beyond to compete in 'alternative festival'
Welsh learners from around the world who make a special effort to use the language in their everyday lives are being invited to take part in a learner competition launched today, 15 June, which forms part of the 'Gŵyl AmGen' (Alternative Festival). 
The 'Gŵyl AmGen', is a long weekend of programming and content across Welsh language radio stations BBC Radio Cymru, BBC Radio Cymru 2 and the BBC Cymru Fyw news website. 
Learners aged 18 and older can take part in the competition, which is being organised by the National Eisteddfod in conjunction with the National Centre for Learning Welsh and BBC Radio Cymru. The winner will be announced on BBC Radio Cymru during the festival, which takes place 30 July - 2 August. 
Please note, the nomination process has ended. A shortlist will be drawn up, with shortlisted entrants taking part in a special celebration on BBC Radio Cymru on Saturday 1 August as part of the 'Gŵyl AmGen'. 
The winner will be announced on the afternoon of Saturday, 1 August.  
Betsan Moses, Chief Executive of the National Eisteddfod said: "We've had to look differently at many things this year, including how best to celebrate the successes of Welsh learners, as a result of postponing the Eisteddfod, which was due to take place in Tregaron. 
"We've already been working with the National Centre to offer activities for learners as part of our AmGen programme, which started some weeks ago, and this competition is the high point.  It's an opportunity to congratulate learners who make a special effort to use their Welsh - with the family, at work or in the wider community."
Efa Gruffudd Jones, Chief Executive of the National Centre for Learning Welsh said: "The Learn Welsh community has grown over the past few months with thousands more adults learning Welsh via digital means, in Wales and beyond. We look forward very much to this competition, which is a further opportunity to welcome and celebrate new Welsh speakers."
Ynyr Williams, Content Editor BBC Radio Cymru said: "It's fantastic to be a part of this award.  We're proud that so many Welsh learners listen and contribute to Radio Cymru.  Our 'Pigion y Dysgwyr' (Learner Highlights) podcast is among the most popular podcasts on Radio Cymru and we're looking forward to holding our week-long celebration of Welsh learners, 'Wythnos Dathlu Dysgu Cymraeg', later this year.  As a station, we're always looking forward to meeting and hearing from these committed individuals across our service."
In a move from previous years, there will be no semi-final.  Rather, a panel from the National Centre will draw up a long short list.  A judging panel, which includes Aran Jones, the co-founder of SaySomethingInWelsh, will agree on a short list and winner.
Ends
15.6.20