Meet Gwyn from S4C drama series Rownd a Rownd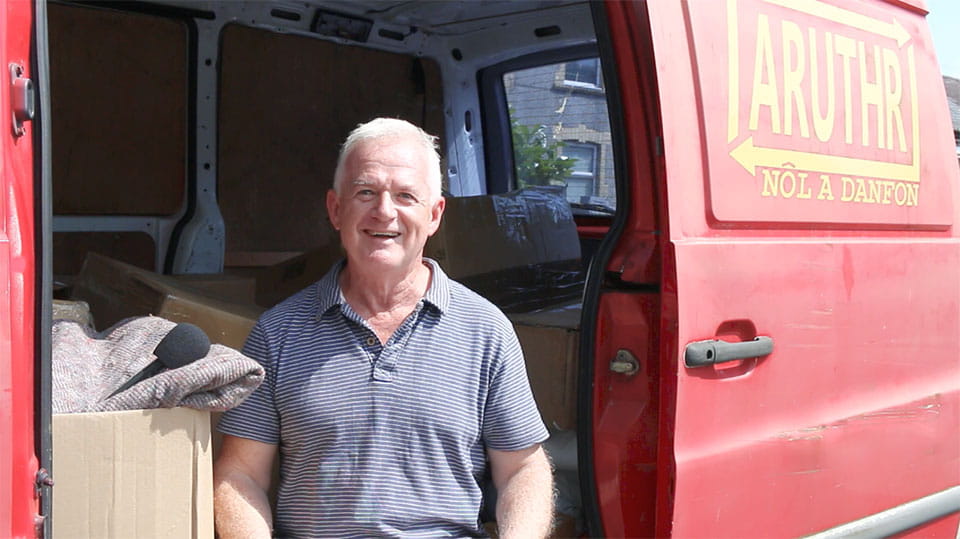 Meet Gwyn...
Actor Gwyn Vaughan Jones plays 'Arthur' in S4C's long-running teen drama, Rownd a Rownd, broadcast every Tuesday and Thursday at 6.30pm.
Where were you brought up?
I'm originally from Blaenau Ffestiniog in Gwynedd and I went to primary school and comprehensive school there.  I was brought up in a Welsh-speaking home in an industrial town similar to many communities in the South Wales Valleys.
When and where do you use your Welsh?
I speak Welsh almost all the time – in work, in the village where I live and at home mostly.  My partner comes from Norway and has learnt Welsh.
What's your favourite/least favourite thing?
I love classical music and being in cafes!  My least favourite things are rats and Brexit!
What do you enjoy most about acting in Rownd a Rownd?
I enjoy the company – the amazing people who work on Rownd a Rownd.  We're like one big family and we all get along well.  I also enjoy playing 'Arthur' – he's fun to act, even though nobody likes him!
What's your most memorable scene from Rownd a Rownd?
There are so many of them!  I can't say that one stands out more than others.  I'm lucky to work in such a happy place!
What do you do in your leisure time?
I like mountain walking, sometimes running, listening to music, travelling and reading Scandi-noir novels.  I'm a regular theatre-goer and also enjoy dance performances.
Your favourite Welsh book?
Un Nos Ola Leuad by Caradog Pritchard. I was privileged to act in a stage adaptation of the novel when I was a young actor.
What's your favourite Welsh word?
'Igam-ogam' (zigzag) and 'bendigedig' (splendid).
Do you have any advice for Welsh learners?
Keep going and don't be put off!
Describe yourself in three words.
Sincere, sensitive and silly!