Interview with Welsh Learner of the Year and business owner, David Thomas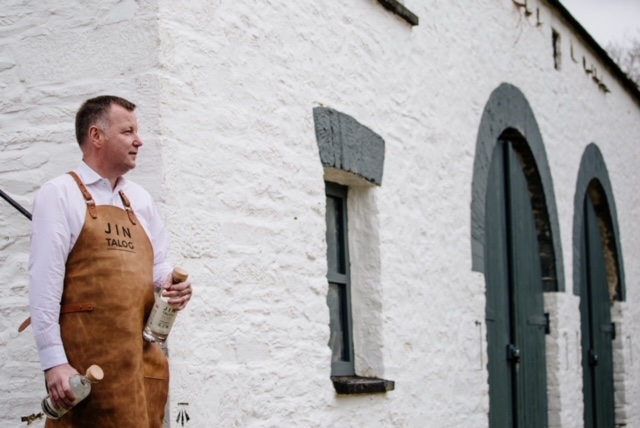 David Thomas is this year's Welsh Learner of the Year.  David along with his husband, Anthony own Jin Talog in Carmarthenshire. 
On 30 November at 6pm, David will hold a Business Forum for Welsh learners.  If you would like to join the virtual session, please click here.
How important was winning the Eisteddfod's Welsh Learner of the Year competition for you?
It means so much to me personally.  I really enjoy the fact that I can speak the language, and it was an honour to be nominated, let alone win the competition.  I'm really making an effort to ensure my tenure as Learner of the Year is a memorable one.
Do you think it's a good idea to have a competition like this?
It's great because we should respect people who make the effort to learn the language.  Previous competition winners have inspired me over the years.  They have shown me the way.  The award is a constant reminder that it's possible to master the Welsh language.
What have you enjoyed most about learning Welsh?
Where do I start?  The process of learning the language has proved to be a very interesting one for me.  But the most important thing is that I have made new friends and acquaintances.  Also, I have discovered and fallen in love with Welsh culture, which is so valuable.
What has been the biggest challenge for you with learning Welsh?
Gaining confidence to speak to people I didn't know.  I used to find it challenging to speak to other people in shops, and with neighbours especially when I first started to learn.  But I must say that people have been so kind and supportive.
What advice do you have for other Welsh learners, and how would you encourage them to keep at it?
Firstly, be realistic!  Learning a new language can be challenging, so don't give up if you encounter problems now and again.  Make sure you take advantage of every possible opportunity to speak, listen, and gain experience of the language.
Apart from attending classes, what are the main things that have helped you become fluent?
We're lucky because the Welsh language is all around us here in Wales.  Both Radio Cymru and S4C have helped me so much.  I have benefited so much from watching S4C and listening to Radio Cymru in the car or in the kitchen.  I have learnt to appreciate programmes on S4C and Radio Cymru over the years.
How has your life changed after learning Welsh?
I always used to feel that something was missing from my life since I wasn't able to speak Welsh.  Learning Welsh has transformed my life.  Being able to read novels, listen to music and understand the news in Welsh has helped me see the world from a different perspective.  I have made many new friends and acquaintances, and considering I live in rural Carmarthenshire, the language has helped me feel part of the community.
Who are the people who have inspired you?
I have to mention the amazing tutors I've had over the years, especially Llinos Davies, Gwen Davies, Carol Thomas, Dwynwen Teifi and Gwyn Nicholas.  They showed me that anything is possible.  Learning with other people is very important to me.  People have a lot of fun when learning together and making new friends.  Also, my husband Anthony has been very patient with me!
How important is the Welsh language in your business, and how much Welsh do you use?
Learning Welsh without doubt has been instrumental to the success of the business.  Welsh people appreciate the fact that we give priority to the language.  Also, they enjoy being able to receive customer service through the medium of Welsh, and why not?
Are you looking forward to the Business Forum for Welsh learners on 30 November?
I always look forward to meeting new people and sharing my story.  Having said that, I will feel nervous in case I make too many mistakes, or have challenging questions.  Sometimes I'm too self-critical.  No pressure then…!