Learning Welsh helps Alisa reconnect with national anthem roots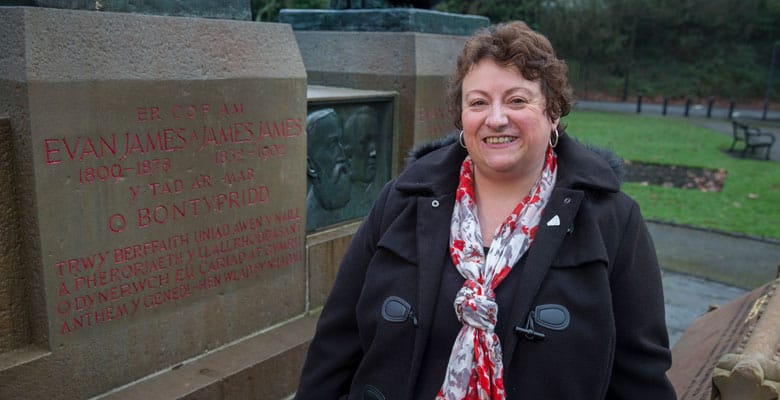 The great great grand-daughter of James James, the Pontypridd musician who composed the melody for the Welsh anthem, Hen Wlad Fy Nhadau, has spoken of her pleasure at learning Welsh as an adult.
Alisa Baker, who was born in Cardiff and attended English-medium schools in the Rhondda, has been learning Welsh for the past 18 months.  Alisa is following a Welsh for Adults course at Llwynypia College, which is organised by the University of South Wales on behalf of the National Centre for Learning Welsh.
While Alisa knew some Welsh from her schooldays – and her grandmother spoke Welsh to her when she was young – she says she really wanted to give learning the language a proper go in tribute to her illustrious forebears.
"My ancestors have played a very big part in me wanting to learn Welsh," Alisa explains.
"My grandmother on my dad's side is the granddaughter and great granddaughter of James James and Evan James, who wrote the Welsh national anthem.  They wrote it for the people of Wales and gave it to them.  Learning Welsh is helping me reconnect with those family roots.
"There was Welsh on my mother's side too and I'm now living in my maternal great grandparents' house in Tonyrefail.  It's a good feeling when I speak Welsh in my house as a long time ago Welsh was the only language spoken there."
Mother-of-three Alisa is hoping to work as a nursing assistant and believes learning Welsh will also be of benefit to her in her chosen career.
"My advice to anyone wanting to learn Welsh is go for it," she adds.  "It's fun and you meet a lot of lovely, interesting new friends.  The tutors are great too and you learn in an informal and interesting way – it's nothing like being in school!"
Efa Gruffudd Jones, chief executive of the National Centre for Learning Welsh, which is responsible for Welsh for Adults courses across Wales, says:
"We know people have lots of good reasons for wanting to learn Welsh, whether to support children in Welsh-medium education or to widen job prospects.  This is something quite special, though – wanting to learn Welsh because your ancestor composed the Welsh national anthem.  We wish Alisa 'lwc dda' – good luck – as she continues with her studies."
The National Centre for Learning Welsh works with a network of providers to deliver a range of courses across Wales for learners at all levels, whether beginners or fluent speakers – more information is available here