Minty - Dydd Miwsig Cymru - Welsh language Music Day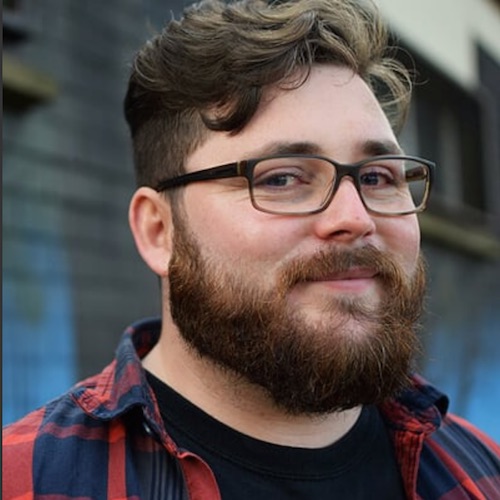 Meet Minty
Minty is a broadcaster and podcaster based in Cardiff, and is a keen Welsh learner. He's supporting this year's Dydd Miwsig Cymru (Welsh Language Music Day) to celebrate the best of Welsh language music. Here, he tells us a bit more about himself:
Where do you come from and what is your background?
I grew up in two small mining villages in the Valleys. I was born in Abertillery and then moved over to Blackwood when I was about seven years old. I always remember Welsh being part of the curriculum in school, and loved learning Welsh in secondary school. We only had it as one lesson a week, but it was great progressing, with new challenges and words. After I left school in 2005 I lost most of my Welsh language knowledge, but I'm learning now to get those skills back.
Where did the idea to start the podcast come from?
The idea from the podcast came about because there was a sold-out gig that I couldn't get a ticket to in 2016, and those that were left were three times the price of face value. I was disappointed, and thought there must be plenty of other people in the same boat, so I decided to put together a weekly programme which would preview gigs happening in the city. I use my social media channels to announce when shows are about to go on sale, and use my podcast as a shop window for music fans all across the country.
Your ambition?
To be the go-to person for what's on in Cardiff and Wales.
Favourite thing and least favourite thing?
Favourite thing: Probably my retro game collection.
Least favourite thing: Celery, without a doubt.
What do you enjoy doing in your spare time?
Nothing beats a gig. I tend to go out to gigs at least two or three times a week, most of the time not knowing who I'm going to see. I love the risk of going out to see a band I don't know and I'd love to encourage people to try it, especially Welsh language gigs. You don't need to understand the words to enjoy good music and a great atmosphere.
The best gig you've been to and why?
I think one of my favourite gigs has to be the first time I saw The Cure live at Reading 2012, or seeing Sigur Ros on the John Peel Stage at Glastonbury 2016. I'd waited at least eight years to see each band and when I saw them I got very emotional. I think if you go to a gig and it moves you, it's something that will always be at the forefront of your memory.
Why did you want to learn Welsh?
As I said earlier, I started learning in school and lost my grasp of the language when I left. I have started learning again and really it's because I am proud that we have such a beautiful native language in this country.
Biggest challenge so far as a learner?
Without doubt for me it has to be sentence and word structure. I know quite a lot of Welsh words but it's putting them together into a plausible sentence that's difficult.
Your favourite Welsh word?
Hufen ia or mwg
Tracks/bands you would recommend to learners who have never listened to Welsh language music?
I saw Chroma recently for about the 15th time and they are absolutely out of this world. They gave the performance of their life so I would certainly say see them now while the venues are still small!
I also adore the 2015 Ysgol Sul "Huno" EP. I remember seeing them perform Dwi ar Dân, a song from the EP at Focus Wales 2016 and being completely blown away by it.
One of the bands I pick up the hairbrush and sing to would be Fleur De Lys. Cofia Anghofia is the song to listen to whilst you're in the shower or driving. I know all the words!
I really must not leave out The Gentle Good either. Gareth Bonello is a true gentleman and a top performer. I was so proud to witness him lift the 2017 Welsh Music Prize. If you're looking for a place to start in terms of listening to Welsh language music – I'd say this is it!
What's the best thing about Dydd Miwsig Cymru?
The best thing about Dydd Miwsig Cymru is that it tells the world about the Welsh language. It's a beautiful language and we have so many performers in this country who use Welsh as a conduit for their music, and we should celebrate that fact!
Any advice for other Welsh learners/anyone thinking about learning Welsh?
Keep at it and don't give up! Try and drop Welsh words into your sentences when you're talking to your mates on social media so it sticks, and research the wonderful facilities we have here in Wales to assist Welsh learners.
Describe yourself in three words
Live music lover.