Nefyn care home staff learn Welsh to support residents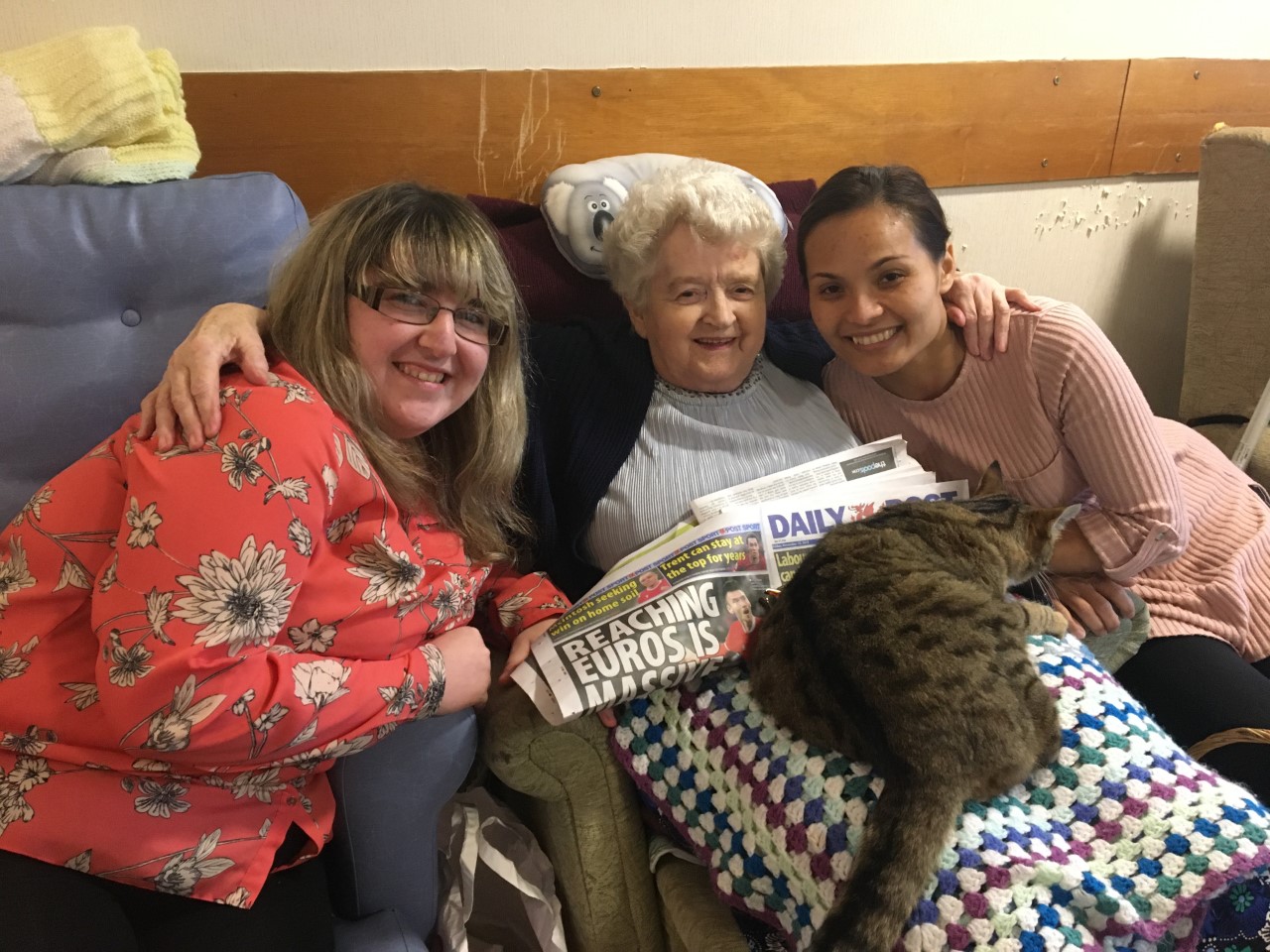 Seren Jones and Chariya Davies - staff who are learning Welsh with one of the residents, Beti Rowlands. 
Two members of staff at Plas Hafan care home in Nefyn, on the Llŷn Peninsula, are learning Welsh in order to speak to residents at the home, many of whom live with conditions such as dementia, in their first language.
Chariya Davies and Seren Jones started a 'Welsh in the Workplace' course in September. The course, held at the care home every week by Learn Welsh North West, which is run by Bangor University on behalf of the National Centre for Learning Welsh, is sponsored by Gwynedd Council.
Chariya Davies, who is originally from Thailand, says: "I'm learning Welsh so I can communicate with our residents in their first language. I feel it is our responsibility to learn the language and it also improves our relationship with them. We're having lots of fun practising and learning new words. Everyone is very supportive and is helping us learn."
Seren Jones, who is originally from Merthyr Tydfil, adds: "We also speak in Welsh with other staff at the home and get to practise what we learn every week. We're currently enjoying preparing for Christmas with the residents. It's really nice to hear them talk about Christmas and their family traditions in Welsh."
Eluned Croydon, the course tutor, explains: "Both Seren and Chariya are following a course at 'Intermediate' level, which means they're able to chat about everyday subjects in Welsh.  They're very keen to improve their language skills and use their Welsh with both residents and other members of staff. It's nice to hear them having fun, discussing and reminiscing in Welsh with the residents."
Wendy Owen, Plas Hafan Manager, adds: "The majority of our residents have been born and brought up in this area and speak Welsh, and so it's important they are cared for by staff in their first language to ensure that the service we offer is of the highest standard.
"We're delighted this course is running at Plas Hafan and are proud of both Chariya and Seren's progress."
Welsh courses for beginners will be starting in communities across north Wales in January 2020.  The National Centre also runs the 'Work Welsh' scheme which offers opportunities for workers in Social Care, as well as other sectors, to develop Welsh language skills in the workplace.