Meet Emma Chappell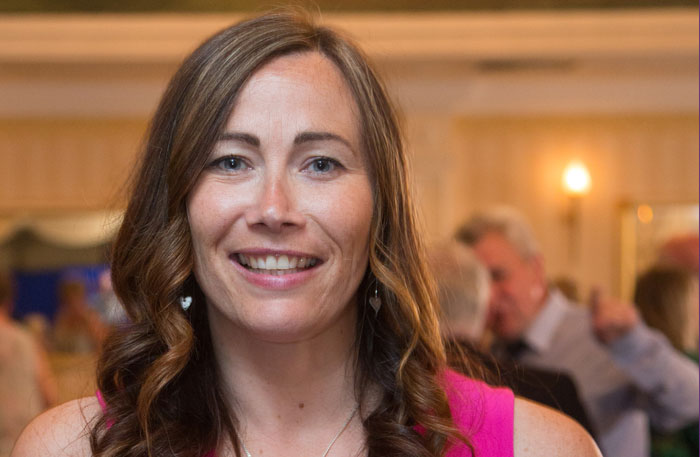 Emma Chappell, who won the Welsh Learner of the Year award at the 2017 National Eisteddfod, was born in Cambridge and brought up in Royston, Hertfordshire. Emma now lives with her family in the village of Deiniolen, Gwynedd.
Where do you come from and what's your background?
I originally come from Hertfordshire, but I moved around several times before settling in Deiniolen - Cambridge, London, Minnesota, Manchester and Warrington. I love living in the mountains: fresh air, no 'rush hour' and beautiful places to discover. I have also had a number of jobs over the years, including working in 5 star hotels in London, driving a pink taxi and working as 'Cabin Crew'. Now I work as a Facilities, Human Resources and Compliance Officer at the Management Centre in Bangor.
Why did you want to learn Welsh?
Love! I met my partner Arwel in 2004 and he is a real Welshman. The Welsh language and culture are very important to him and I knew if I wanted to have a successful relationship, I would have to learn Welsh.
How / where did you learn?
I went to an evening class in Warrington for a year before I moved to Wales, where I started an intensive 'Wlpan' course straight away. I worked my shifts around the classes and then, when I was pregnant, I just carried on. I was even at a Welsh class when in labour with my first son - that's commitment for you! (Don't worry, he wasn't born in the classroom!) I followed courses to develop my writing skills and focused on formal Welsh through Canolfan Bedwyr and the Coleg Cymraeg Cenedlaethol.
When and where do you use your Welsh?
I use my Welsh everywhere! Welsh is the language of our home, I speak Welsh at work, with my friends, with the children's schools, while I'm shopping. I'll try to start every conversation in Welsh!
How did you feel when you won the National Eisteddfod's 2017 Welsh Learner of the Year award?
It was great, totally unexpected, but I was so proud to show how far I had come. I had so much support from my family, friends and Arwel's family too. It was great to see them celebrating my success.
Would you encourage other learners to compete for the Learner of the Year award?
Yes – I've had a great time. I've met lots of new people, I've had new experiences and everyone's been so kind – it's been emotional too. It's been a good experience for my young family - the boys have enjoyed getting all the attention and we've also had a lot of trips to Cardiff.
Your likes and dislikes?
My favourite thing is to travel. I don't mind where I'm going, I just like going to other places, to wander and learn about their history. I hate mushrooms!
What do you enjoy doing in your leisure time?
I enjoy walking in the mountains with my family or with the newly established local walking club in the Deiniolen area. I also like cooking, especially sweet things, and I love Elliw Gwawr's recipe books.
What's your favorite Welsh book?
I read 'Blasu' by Manon Steffan Ross about a year ago and I really enjoyed it. I liked the characters in the story and also enjoyed making the recipes, especially the gingerbread.
What is your favourite Welsh word?
I really like the word 'pendramwnwgl' (the Welsh for 'headlong' or 'topsy turvy') – as I feel that's been my approach to learning Welsh, so, I can relate to the word!
Do you have any advice for Welsh learners?
Don't worry about what other people think; mistakes arn't important at all. Use your ears to listen to what other people say, and if what you're saying doesn't sound right, correct yourself as you're talking.
I decided to listen to Welsh radio stations while I was in the car or the kitchen. I've learnt new words, sounds and idioms that I would never heard if I hadn't listened to Welsh programmes.
Describe yourself in three words.
Mum, thoughtful, ambitious.
Watch this video promoting the 2018 Cardiff National Eisteddfod: