How learning Welsh has helped Tracy in her work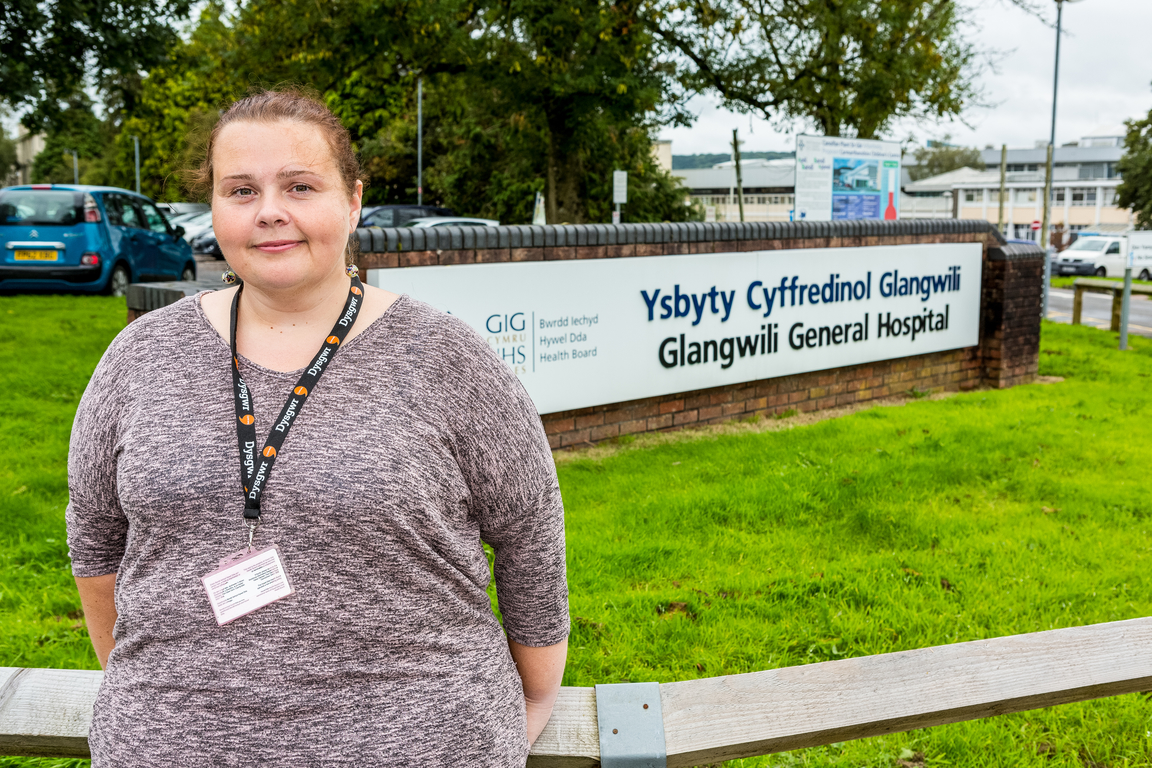 Tracy Davies, Hywel Dda University Health Board
Learning Welsh with the 'Learn Welsh' programme has helped Tracy Davies in her role as a Mental Health Practitioner at Tŷ Myddfai Psychological Wellbeing Centre, Carmarthen.
Tracy, who is responsible for a range of therapies, including Cognitive Behaviour Therapy, can now deliver services through the medium of Welsh.
This benefits Tracy's vulnerable patients, many of whom are first language Welsh speakers who find it easier to express themselves in Welsh.  From time to time, Tracy also treats elderly patients, some of whom have suffered a stroke or are showing signs of dementia.  Being able to treat all these patients in their first language, Welsh, facilitates treatment and ensures a detailed and correct assessment.
Waiting times for a Welsh-speaking practitioner in the 'Therapeutic Day Services' department have also been halved as the team's capacity has been doubled.
Tracy, originally from Llanelli, followed the 10-hour online course 'Work Welsh: Welcome', which introduces everyday vocabulary and phrases.  After completing the course, Tracy felt confident enough to answer the phone in Welsh and greet people at reception in Welsh.
Tracy went on to follow a week-long 'Work Welsh' residential course held at Cardigan Castle.  Tracy explains: "The online course was an excellent 'refresher' and a good way of learning how to use the vocabulary I already had in full sentences.
"The residential course was fantastic!  I was the only person on the course who hadn't been to a Welsh-medium school or lived in a Welsh-speaking community.  The tutor was brilliant and tailored the course completely to the students' needs.
"It was a good experience to follow the course in Cardigan – as you go around the town you hear Welsh being used in a natural way.  On the final night of the course, I even dreamt in Welsh – that's never happened before!"
Tracy is continuing her language journey and has registered on a 'Learn Welsh' course, at Intermediate level, which is held in the community.  Tracy has joined 'Clwb Clecs Llanelli' an informal conversation group where Welsh learners can get together to practise speaking Welsh.  Tracy and her family are also regular viewers of Welsh TV soap, Pobol y Cwm.
Tracy is grateful to her manager at work, Mark Lawler, for his support.  Mark has also learnt Welsh and the pair now hold their meetings in Welsh.
Tracy adds:  "My advice to anyone thinking about following a 'Work Welsh' course is to go for it – there's nothing to lose.  It's more than learning a language, you learn about Welsh culture too."
Find the free, online 'Work Welsh' courses here.
Ends