Two interesting events for learners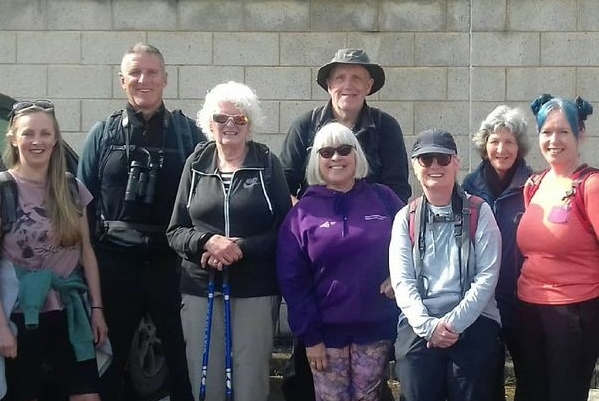 Over the past few months, two events for Welsh learners have been held, which proved very popular.  There was a waiting list for both events!  
The first of these was a series of walks for learners in the company of the naturalist Iolo Williams which were held in Margam Park, Cwm Idwal, Libanus and Denbigh.
The second was a residential course for learners in the Urdd centre in Glan-llyn, near Bala, over the May day bank holiday weekend. 
Thanks to all the learners who attended the events.  Here are some of their comments:
The residential weekend in Glan-llyn
I had a wonderful time in Glan-llyn. The weekend was full of activities, starting with a night out with the group Bwncath in Llanuwchlyn, and finishing with a Sunday lunch. The tutors were excellent and I enjoyed the classes. Everyone spoke Welsh over the weekend, therefore it was a marvellous opportunity to practise Welsh in every situation, including talking to local people. I'm already looking forward to registering next year.

Caroline Garrett
The weekend was very well organised. The Bwncath evening was wonderful, and the activities in the residential centre gave us an opportunity to chat and work together. The journey to Bala and Llyn Tryweryn, and talking with local people was a good opportunity to use our Welsh. Fiona in the Story Evening was excellent, and the 'History of the Urdd' drama was wonderful. The course was excellent. Thank you to all the tutors and the staff at Glan-llyn.

Sara Bell
The Bwncath evening was excellent, and the atmosphere in the lessons was pleasant and the content very useful. Chatting to local people was truly worthwhile, and as a result I feel much more confident. The Story Evening was entertaining, and the 'History of the Urdd' drama was inspiring. The variety was the best thing about the course.

Kevin Griffiths
Walk around Denbighshire with Iolo Williams
We had such a wonderful walk around the countryside in Denbighshire, and we learnt a lot about nature and wildlife from Iolo. We had the opportunity to speak Welsh all morning, and to make new friends as well. Thank you to everyone, I'm already looking forward to the next one.

Graiagh
Iolo is a very friendly man, and his knowledge of nature is amazing. He wanted to stop and explain about every plant, fly and bird along the way. He speaks very clearly, which is perfect for learners. Thanks to Iolo and to Menter Iaith Sir Ddinbych for an excellent day.

Pete Baston
I am learning Welsh online at the moment, so it was great to meet other learners from my area. We went for a walk in lovely weather, and we learnt so much about nature and a little about the history of Denbigh. I'm a big fan of Iolo Williams, therefore I really enjoyed having the opportunity to speak Welsh with my hero.

Janette Lewis