Working with Duolingo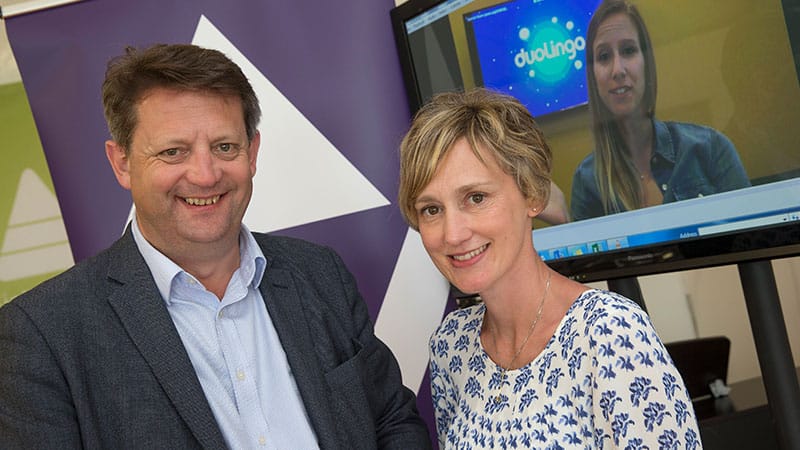 Picture caption: Minister for Lifelong Learning and Welsh Language, Alun Davies, is pictured with Efa Gruffudd Jones, Chief Executive of the National Centre for Learning Welsh. A video message from Gina Gotthelf, VP of Growth at Duolingo, based in the US, plays in the background.
National Centre for Learning Welsh teams up with Duolingo language-learning platform
The National Centre for Learning Welsh, the organisation responsible for the Welsh for Adults education programme, and Duolingo, the language-learning platform, have announced a new partnership programme.
As part of the programme, the Centre will share its learning resources with Duolingo, so that the Welsh version of Duolingo's free language-learning app uses the same language patterns and vocabulary taught on Welsh for Adults courses.
A link to the Duolingo app can be found here. Learners will be encouraged to use the app, which uses game-like experiences, as an additional and convenient way of practising their Welsh.
Duolingo will also cross-promote Welsh for Adults courses, which are available at five different learning levels in communities across Wales.
A group of volunteers is responsible for creating and maintaining Duolingo's Welsh app; the company's headquarters are in the United States.
Duolingo co-founder, Professor Luis von Ahn, Associate Professor in Computer Sciences at Carnegie Mellon University, Pittsburgh, explains:
"Learning a new language can be hard work, but Duolingo breaks down complex learning to make it fun.  This approach has proved successful and we now have 170 million users across the globe!
"We're very happy to be collaborating with the National Centre for Learning Welsh."
Efa Gruffudd Jones, Chief Executive of the National Centre for Learning Welsh, says:
"Duolingo is a fun and easy way to practise your Welsh.  By creating a partnership with this language-learning platform, we're facilitating additional opportunities for our learners to practise and improve their Welsh."
Duolingo user Jason Aylett, originally from Scotland but now living in Newport, said:  "I'm married to a Welsh speaker and my children are starting to learn Welsh in school.
"I started learning Welsh four years ago and have just completed the Foundation/Sylfaen level.  Duolingo has helped by giving me a daily focus and practice sessions. My two boys have started using it too and they're really enjoying the app."
Ends
30.5.17
For further information please contact hannah.thomas@dysgucymraeg.cymru or hawys.roberts@dysgucymraeg.cymru