Work Welsh 2020 Award: Learner who makes the Best Use of Welsh in the Workplace
WINNER: Work Welsh Higher Education Learner (Cardiff Metropolitan University)
Eva has been learning Welsh for several years and is now following a Work Welsh Higher Education scheme at Cardiff Metropolitan University, which includes a five-day residential course at Nant Gwrtheyrn. She works for the university's Conferencing Services and communicates in Welsh with clients by phone, email, and in meetings. Eva wears a 'Cymraeg/Welsh' badge, and provides a bilingual service at events, ensuring that all materials are bilingual, including publications and social media. She strives to speak Welsh with learners and encourages others to learn; she also supports the Welsh Language Team's initiatives, such as social evenings for learners.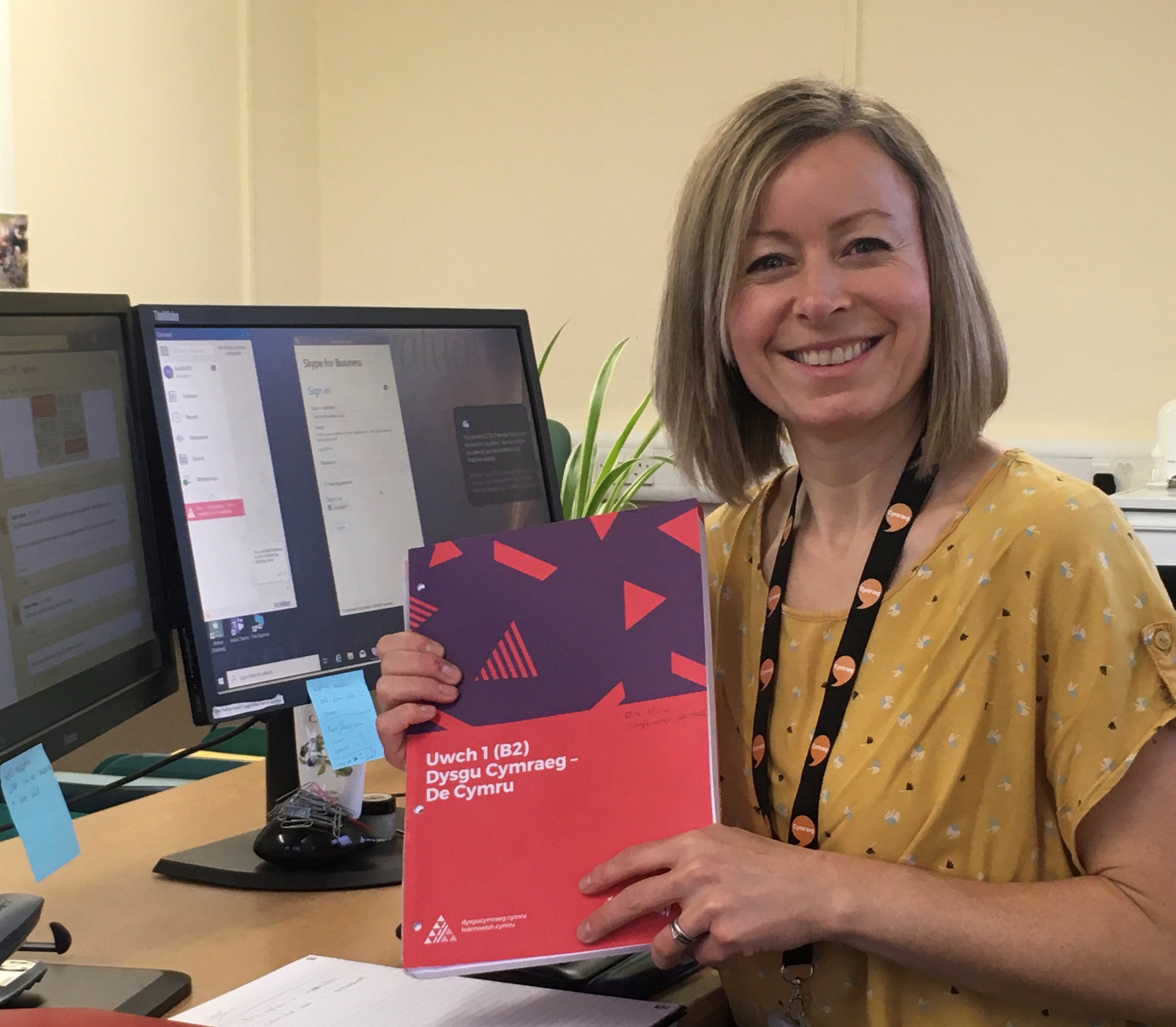 I am so pleased to have won the award for 'Learner who makes the best use of Welsh in the Workplace'. It's fantastic to have this recognition of my commitment and enthusiasm to using Welsh in the work environment and I hope it inspires others on their own Welsh journey.

Eva Huw, Work Welsh Learner
2nd: Laura Main, Learn Welsh Further Education (Coleg Sir Gâr)
Laura is learning Welsh through the Work Welsh Further Education scheme at Coleg Sir Gâr. She is currently learning at Foundation level and has gained a great deal of confidence in recent months. She makes an effort to use Welsh in the workplace every day by conversing with other staff, as well as striving to speak Welsh with Welsh-speaking students. Laura is proud of the fact that she speaks Welsh with office staff and carers, and that they are happy to speak Welsh with her too. Other staff have noticed the effort Laura puts in to speaking Welsh on all occasions, noting how she inspires colleagues and encourages them to speak Welsh with her boundless enthusiasm.
3rd: Michelle Matthews, Learn Welsh Health Learner, (Betsi Cadwaladr University Health Board) 
Michelle is learning Welsh through the Work Welsh Health scheme at Betsi Cadwaladr University Health Board. She works in a Radiology Department and deals mainly with patients' inquiries over the telephone. Michelle has taken every opportunity to learn Welsh, and has attended residential courses under the scheme at Nant Gwrtheyrn. She has organised a number of activities to promote Welsh within her department, including a Welsh Costume competition and decorative work to celebrate St Dwynwen's Day, encouraging other radiology departments to join in. She is responsible for the department's newsletter, and ensures that a column is devoted to Welsh - be it a lesson, vocabulary tips, news or just general encouragement. Michelle was also a member of a Q&A panel on the Health Board's stand at the National Eisteddfod where she spoke Welsh with confidence.