Work Welsh Award 2020: Employer of the Year
WINNER: NPTC Group of Colleges
The NPTC Group of Colleges has been part of the Work Welsh Further Education scheme since 2017, with around 850 members of staff following Welsh language training. The Executive Team and Senior Management Team have been very supportive from the outset, encouraging staff to join the scheme, with Heads of Schools scheduling lessons around staff needs to ensure high attendance. Staff have also been encouraged to attend residential Work Welsh lessons, as well as lunchtime and evening classes. In 2018, the College achieved 83% of staff completing the online Cwrs Croeso/Welcome course, which is now part of the group's induction and staff appraisal programme. All staff across the campuses now greet each other in Welsh and use Welsh phrases confidently.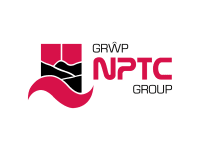 NPTC Group of Colleges are very honoured to accept the prestigious '2020 Work Welsh Employer of the Year award'. College staff have thoroughly enjoyed the Work Welsh scheme, it has certainly had a positive impact on their Welsh language development and self-confidence. Staff on the scheme are now using their Welsh in lessons, with their students and with their colleagues. It has been a very positive course for all involved and we are grateful to Work Welsh for funding such a great scheme!

Angharad Morgan, NPTC Group of Colleges
2nd: Wild Elements
Wild Elements is one of the employers receiving intensive lessons as part of the Work Welsh scheme in North West Wales. Increasing Welsh language provision, communications and programming is a strategic objective of Wild Elements, and the team has worked to develop and extend Welsh across the organisation over the last 18 months. Eleven of the team receive four hours of intensive Welsh lessons each week, with those staff seeing a significant increase in their skills and confidence in speaking Welsh as a result. Wild Elements has employed additional staff with Welsh language skills, and can now provide courses to the community through the medium of Welsh, as well as offering written qualifications in Welsh. The organisation has developed a bilingual website, and has made general improvements to the bilingual service offer. Wild Elements can now also respond to general inquiries in Welsh.
3rd: Admiral 
Admiral has been supporting 30 members of staff to undertake intensive lessons as part of the Work Welsh scheme. These members deal with the public in Cardiff and Swansea and the aim is to expand further the pool of employees who can converse in Welsh to customers. Admiral takes pride in being a Welsh company, and believes the Work Welsh scheme has been a great opportunity for its staff to develop their language skills. As well as supporting learners to attend lessons during working hours, Admiral sends a 'Word of the Week' email to employees, which is being developed into an online platform . This year, the company launched its Welsh Community, with Welsh speakers being listed on a bespoke online distribution list. The Community has met several times and has supported extra-curricular activities, such as Wales Music Day, when a live set by musician Al Lewis was staged at Admiral House in Cardiff.