Work Welsh Further Education/Higher Education
Work Welsh in Further Education
Following the success of the Further Education Work Welsh pilot project during 2017-18, the project was funded again for the 2018-19 financial year, and it has been funded once again for 2019-20. ColegauCymru will be coordinating the Work Welsh project for the Further Education sector with funding from the National Centre for Learning Welsh.

The aim of the project is to develop the Welsh skills of lecturers in Further Education Colleges. Our aim is to work with a minimum of 210 lecturers in further education across Wales with every individual completing 120 hours of Welsh. For the purpose of this project and in order to achieve our larger objective of increasing Welsh medium provision in the sector, we are asking that 80% of those following the project in the Colleges are academic staff - therefore lecturers or assessors.

This project is appropriate for every level, with classes and language tutors available to assist those who are new learners, those lacking confidence, or fluent speakers to increase their use of Welsh in the workplace. Although the overall aim is the same, the project will vary between Colleges as the nature of the project allows Colleges to adapt it to suit their individual and specific needs.

Further Information
If you work in a Further Education College in Wales, take advantage of the opportunity to be part of this project by contacting your Human Resources department or the Bilingual Champion at your College.

For general information, or for further information on the project, contact Nia Brodrick, project coordinator working on behalf of ColegauCymru: nia.brodrick@colegaucymru.ac.uk
Work Welsh in Higher Education
Work Welsh in Higher Education was established in 2017 with the aim of increasing the Welsh language skills of university staff in Wales, to encourage staff to use Welsh in the workplace.
The scheme received a warm welcome from the onset. During the first year, over 230 individuals joined the scheme, receiving 100 hours of learning over 20 working weeks. Last year, this number increased as over 450 staff across Wales took advantage of 120 hours of learning. Some took a further step by attending intensive residential Work Welsh courses at Nant Gwrtheyrn as well.
Through funding by the National Centre for Learning Welsh, and support from Wales' universities, the scheme is running for a third year. This year, there'll be an emphasis on targeting teaching staff that work in areas that are of strategic importance regarding developing the Welsh provision in higher education. This will, of course, enrich the experiences of Welsh students, as well as promote the use of Welsh in the workplace. 
On top of the core learning hours, fully-funded residential Work Welsh courses are offered for those on the scheme during 2019-20.
Language tutors have been appointed in the universities to work closely with certain members of staff to increase their language skills, and to offer support with using these new skills. Additionally, other staff members, be they administrative staff or managers, are welcome to join the scheme.
Further Information
For further details, you're welcome to contact Owen Thomas, the scheme's coordinator at the Coleg Cymraeg Cenedlaethol: o.thomas@colegcymraeg.ac.uk / 01267 610441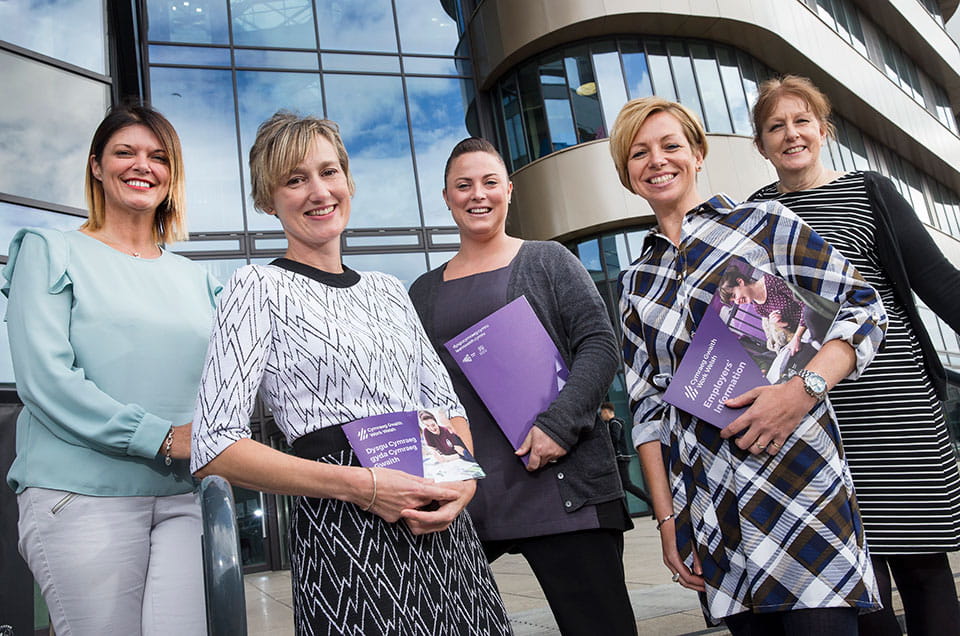 Picture caption (above)
From left to right: Karen Davies, lecturer in Child Care at Cardiff and Vale College, Efa Gruffudd Jones, Chief Executive of the National Centre for Learning Welsh, Catherine Palmer, Lecturer in Complementary Therapies at Cardiff and Vale College, Nicola Buttle, Cardiff and Vale College Welsh Curriculum Co-ordinator and Alison Grainger, Lecturer in Child Care at Cardiff and Vale College.