Work Welsh 20201 Award: Tutor of the Year
WINNER: Menna Morris, Work Welsh Tutor (Conwy County Borough Council)
Menna has been a Work Welsh tutor for several years, teaching Conwy County employees on all levels. Menna received a very high number of nominations from learners who feel lucky to have Menna as their tutor. In response to the Covid-19 pandemic, Menna adapted quickly in order to continue running lessons virtually for all learners, whilst continuing to keep up the good spirits of groups. Her passion for the Welsh language penetrates to the lessons, and her lessons are energetic and full of fun. She knows how to spark a desire to continue learning, and is a dedicated, patient, and supportive tutor that ensures every single learner gets deserving attention. She also ensures that course content is tailored so that the learning is relevant to the work. Menna ensures the lessons include a variety of learning methods in order to ensure they're interesting, and through hard work, she has led learners to be confident enough to start using Welsh for work purposes.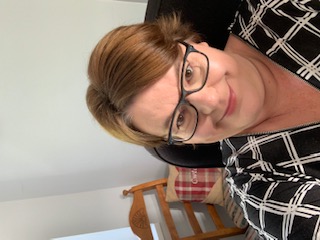 2nd: Huw Owen, Work Welsh Tutor (Ceredigion County Council) 
Huw has been a Work Welsh tutor at Ceredigion County for three years. Huw currently teaches 73 members of staff in 7 classes and on 5 levels. He runs a programme of informal learning opportunities to support the formal learning, including a weekly lunch club offering chat activities based on the week's learning on each level. Additionally, he organises quizzes, competitions, workshops, music gigs, and guest speakers. Huw's learners praise the way he transferred the learning to virtual lessons overnight due to the Covid-19 pandemic, and continued to motivate learners. According to the wealth of nominations from learners, he is an enthusiastic, patient, dedicated, observant, friendly, and supportive tutor. He also ensures that the learning is fun, and succeeds in ensuring every lesson is interesting.
3rd: Heledd Smith, Work Welsh Further Education Scheme Tutor (Bridgend College) 
Heledd is a tutor on the Work Welsh Further Education scheme, working at Bridgend College. She has been a tutor to a number of Bridgend College staff, ensuring good progress for all, and with a high percentage of learners indicating that they use Welsh more often since attending her lessons. Heledd's nominators say she is passionate about ensuring the Welsh language is extended throughout the college, with lessons that are fun, interesting and creative.