Get to know the person behind brand new website, We Learn Welsh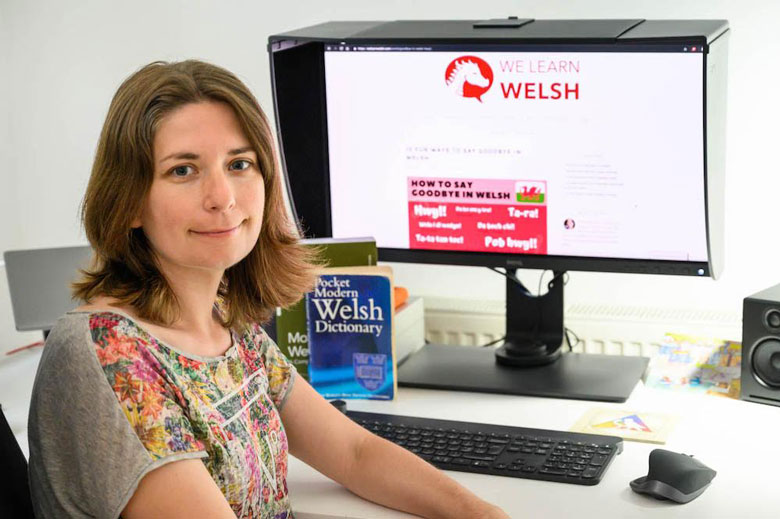 Tell us a little about your background.
My name is Heather Broster.  I'm originally from Canada but I have dual nationality (British and Canadian).  I used to go to Aberdovey on my holidays when I was younger as my grandmother owned a cottage there.  I'm 34 years old and my husband is half Italian, half French and he is also learning Welsh.
Why did you want to learn Welsh?
I feel passionately about languages in general.  Before moving to Wales I'd been living in Italy for six years and in Japan for two years where I learnt both languages.  I feel that it's a good idea to learn the language of the country where one lives and get to know people in their own language.  The Welsh language is a vital part of the culture and history of Wales, and it would be a great pity were it to disappear.
How/where did you learn?
I have many ways of learning and practising the language.  I have been attending a course in Tywyn organised by Learn Welsh North West for the past four years and I also use online resources such as Say Something in Welsh, Anki (flash card app) and Duolingo.  I never miss an episode of Rownd a Rownd or Codi Pac on S4C and I also enjoy learning songs by artists such as Bwncath and Meinir Gwilym.  I took part in a "bootcamp" organised by Say Something in Welsh last June, and I arrange monthly chat sessions in our local cinema!
Two months ago, I set up a website called We Learn Welsh.  I write articles about Welsh vocabulary, grammar and idioms on the website.  By doing this, I'm hoping to support other learners as they embark on their journey, but also learn more about the language myself.  A Facebook group as well as Twitter and Instagram accounts exist for We Learn Welsh.
When and where do you use your Welsh?
As Tywyn is quite an Anglicised town, I don't have many opportunities to use the language on a daily basis.  Having said that, I have joined a walking group in Llanegryn and everyone there is more than willing to converse with me in Welsh.  We go for walks once a week and have a lot of fun!
What are your favourite and worst things?
One of my hobbies is photography and learning languages (of course).  I hate coffee and public speaking!
What do you like doing in your spare time?
I like exploring different areas of Wales and taking photos with my husband.  We enjoy watching films in our local cinema and also like watching programmes on Netflix.
What's your favourite Welsh book?
'Y Stelciwr' by Manon Steffan Ross but I have a feeling that it will be replaced by the book that I'm currently reading, 'Llyfr Glas Nebo!'
What's your favourite Welsh word?
Cenfigennus! (Jealous) The meaning of the word isn't very nice but I like the sound of the word.
Do you have any advice for Welsh learners?
Don't be afraid of making mistakes as everyone makes them, even those who are fluent!  Communicating and having fun are the most important things.  It is very important to practise every day as attending a class once a week isn't enough!
Describe yourself in three words.
Shy, enthusiastic, studious.
Watch Heather's interview with S4C Dysgu Cymraeg below.