Graihagh continues to learn Welsh, thanks to pop group Daniel Lloyd a Mr Pinc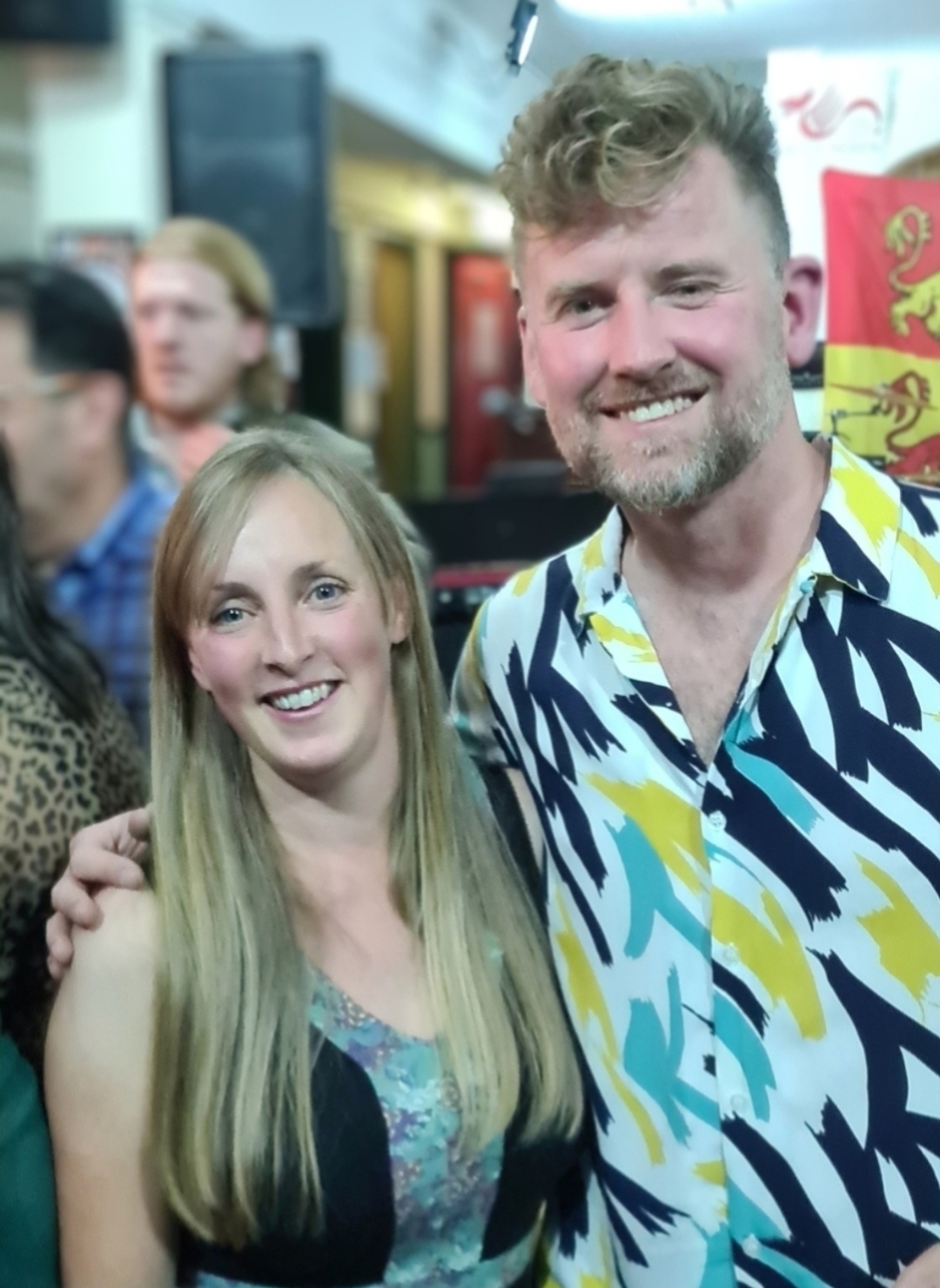 Supporting her children at school was the main reason Graihagh Pelissier, originally from the Isle of Man, first started to learn Welsh, but Welsh music and a trip to the Urdd's Glan-llyn centre have also helped inspire her language journey.
Graihagh, who now lives in Mold, first came across actor and musician Daniel Lloyd in a panto at Theatr Clwyd, and was captivated by his voice.  She later had an opportunity to spend a weekend with other Welsh learners at the Glyn-llyn centre in Bala, which helped build her confidence to use the language.
Graihagh said, "I remember watching the 'Rock 'n Roll' panto at Theatr Clwyd and one of the actors was Daniel Lloyd. I thought his voice was amazing!
"I did a bit of research and found out he had a band that sang in Welsh called Daniel Lloyd a Mr Pinc. I started listening to his music, and then other Welsh bands, and discovered a whole new world and culture through the medium of Welsh."
Graihagh was following a course with the National Centre for Learning Welsh, through its provider, Learn Welsh North East, when a new tutor, Eilir Jones, who also works as an actor and comedian, starting teaching the course. And as well as having fun in class, she also found out about a learners' weekend being run by the National Centre in Glan-llyn.
She added, "We work hard with Eilir, but we also have a lot of fun, and I really enjoy the classes.
"So, when I saw an advert for a learners' weekend in Glan-llyn, I knew I should go. The idea made me a little nervous, but I knew I had to do it. It was well worth it and I would definitely recommend it."
And since then, Graihagh takes advantage of any opportunity to speak Welsh outside the classroom.
She explains, "I've now joined dance group, Dawnswyr Delyn, and the Côr y Pentan choir, and it's wonderful to be able to learn more about the language and culture through dance and song.
"I had been thinking about going to Clwb Clebran (a Welsh learners' conversation group) in the Saith Seren pub in Wrexham for a while, and when I saw that Daniel Lloyd and Mr Pinc were playing there, it gave me the impetus to join the group and buy a ticket at the same time.
"Now, I try to go to Clwb Clebran once or twice a month, and go to see my favourite bands live, as often as possible."
Graihagh's husband, Chris, has also learned Welsh and the children speak fluently as they attend Ysgol Glanrafon and Ysgol Maes Garmon.
Graihagh added, "I really want my children to be proud that they can speak Welsh and enjoy everything the culture has to offer them.
"This is now a journey we're all taking together."
Dona Lewis, Chief Executive of the National Centre for Learning Welsh, says: "Learning Welsh can open the door on a world of new opportunities to enjoy Welsh language music, comedy and entertainment, and it's fantastic to hear how Graihagh has been inspired on her  language journey.
"Graihagh has embraced the Welsh language, and learning Welsh has led to valuable new experiences.  Llongyfarchiadau – many congratulations to both Graihagh and her family."
Image: Graihagh Pelissier and Daniel Lloyd
Graihagh was interviewed by Aled Hughes on BBC Radio Cymru.  You can listen again here (1:40)