Language learning means Eva can now teach yoga to children through the medium of Welsh 
Learning Welsh has opened new doors for Eva Huw, originally from Malmesbury, Wiltshire, who has started running yoga classes for children through the medium of Welsh in Cardiff, where she now lives. 
Eva, who works for Cardiff Metropolitan University (Cardiff Met) as a conference co-ordinator, holds the popular classes for 7-11 year old children at Llanishen Leisure Centre, as part of a programme of events organised by Welsh language initiative, Menter Caerdydd. 
Eva first began learning Welsh 15 years ago after she met her husband, Owain, a Welsh speaker from Ceredigion, while on holiday in Pembrokeshire. 
The pair moved to Swansea, and Eva, after just a few lessons, took her wedding vows in Welsh.  Eva continued to learn, and when the couple moved to Llandeilo to run a Boutique B&B, she was able to put her new skills to use, speaking Welsh with customers.  
Eva wanted to raise her son bilingually, and when he was little, ran a Welsh-medium playgroup in Llandeilo, which helped further strengthen her language skills.  The family have now lived in Cardiff for several years, and her 10-year old son is a pupil at one of the city's Welsh-medium primary schools. 
After a break from learning, Eva decided to brush up her skills by joining a 'Work Welsh' course at the university, funded through the National Centre for Learning Welsh's Work Welsh Scheme, working in partnership with the Coleg Cymraeg Cenedlaethol, which works with universities, further education colleges and apprenticeships providers to develop Welsh-medium opportunities for students, learners and trainees.  
Eva follows an Advanced/Uwch level course for experienced Welsh learners and has also joined 'Coffi a Chlonc', an informal conversation group where learners can get together to practise their Welsh.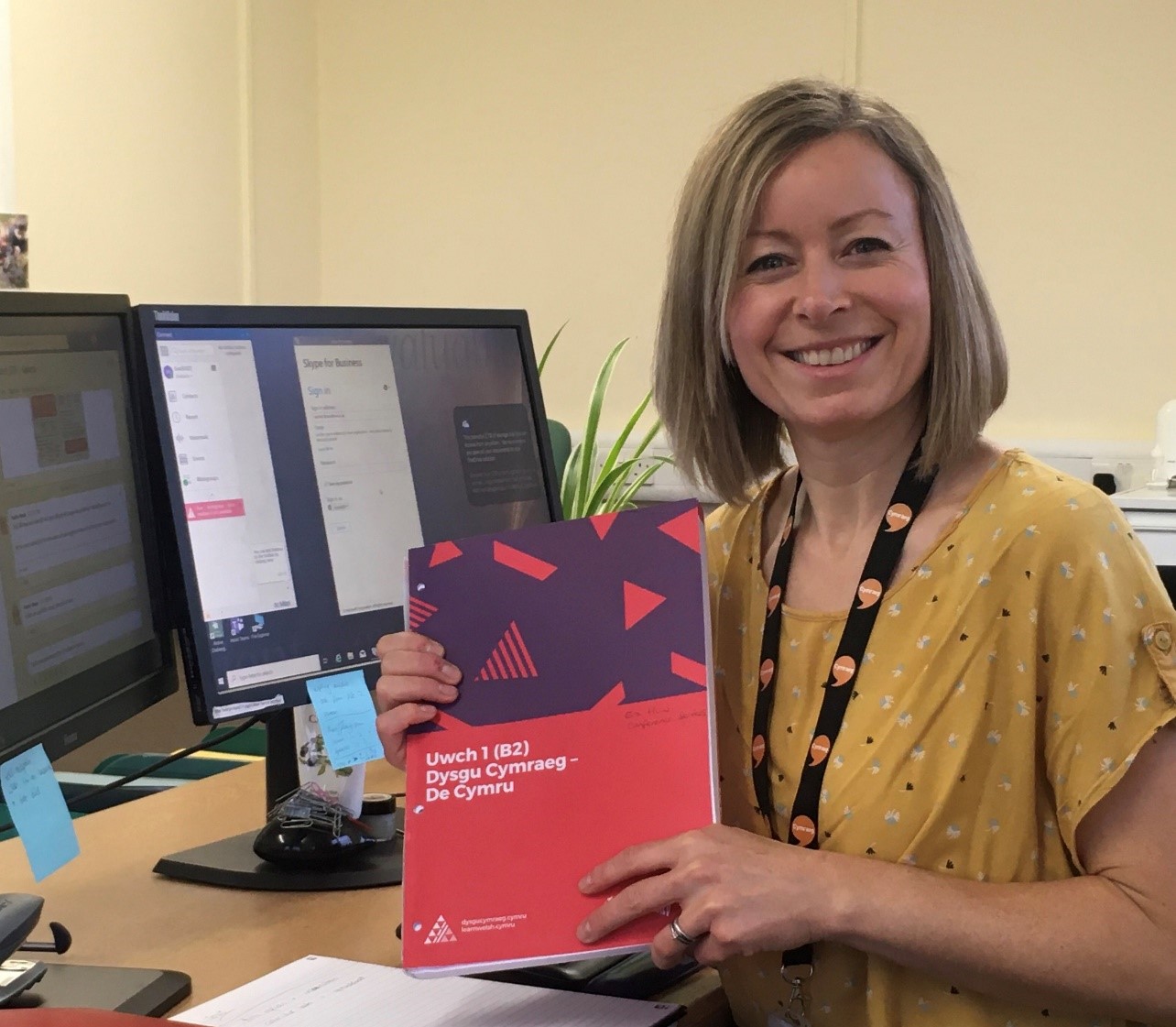 Eva explains, "When I first met my husband, I didn't even realise Welsh was a living language, but very quickly I became keen to learn.  It was great to put my Welsh language skills into action, and when we ran our B&B in Llandeilo, speaking to guests in Welsh really made a difference to the experience of their stay. 
"I hadn't followed a course for many years, and so when an opportunity arose to improve my skills in the workplace, I jumped at the chance.  Being able to offer a bilingual service to clients is important to Cardiff Met and I wanted to gain confidence to use my Welsh in a professional setting."   
Eva adds: "I'd practised yoga for over 20 years – it's a big passion of mine – and so I was thrilled to be able to offer a course for children through the medium of Welsh with Menter Caerdydd.  I get to practise my Welsh and it's a bonus that my son also enjoys attending the classes! 
"I'm loving my Welsh journey – I don't think you ever stop learning – and to anyone thinking of learning Welsh, my advice is to just go for it!"