Musical family embrace the Welsh language in Barry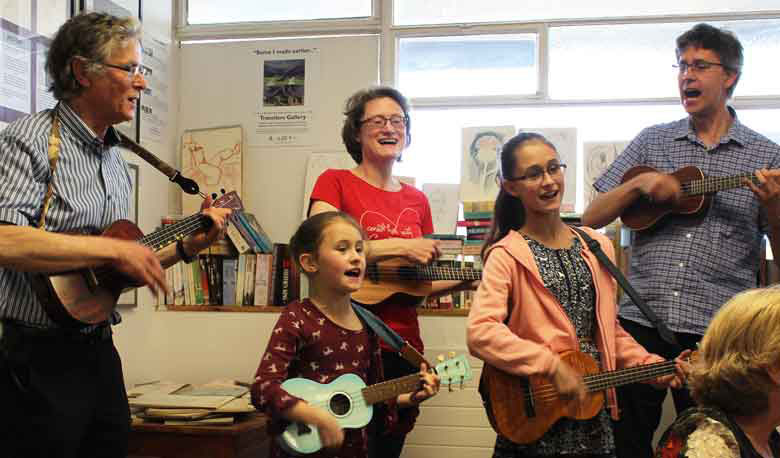 A couple who met whilst studying Music in Germany, have embraced every possible opportunity to learn Welsh since moving to Barry, and now speak Welsh together every day.
Sonia and Mathias Maurer first met in Saarbruecken Music College, Germany, where they studied the viola and violin.  They decided to move to Barry after Sonia's parents, who are originally from Wales, returned to the area having spent many years living in England.
Sonia's father, Bernard van Lierop, is learning Welsh with Learn Welsh The Vale, run by the Vale of Glamorgan Council on behalf of the National Centre for Learning Welsh.  Sonia initially learnt Welsh through the online course Say Something in Welsh, and has also benefitted from courses run by the National Centre.  Mathias has recently completed the Welsh in a Year sabbatical course for teachers at Cardiff University. 
The couple decided to send their children to Welsh-medium schools in the area and Steffi, 12, attends Ysgol Bro Morgannwg comprehensive school and Annabel, 9, attends Ysgol Sant Baruc primary school.  As Sonia explains, the family speak three languages at home;
''We speak Welsh together every day as a family, as well as English and a little German. Now that Mathias and I speak fluent Welsh, it's nice that the children no longer have a secret language of their own! It's also great fun speaking Welsh when we visit Germany, because nobody can guess where we're from!''

Sonia Maurer
Music plays an important part in their lives and all five play and perform the ukelele in a band called 'Y Sanau Drewllyd' (The Smelly Socks).  Annabel also plays the harp and Steffi was awarded first prize for a guitar solo at the 2018 Urdd National Eisteddfod.  Mathias is a former member, and Sonia a former extra of the Orchestra of Welsh National Opera.
Since moving to Wales, they have embraced Welsh language events and integrated themselves in the local community by supporting festivals such as Tafwyl and Gŵyl Fach y Fro.  After a successful camping trip to the National Eisteddfod of Wales in Anglesey two years ago, they pitched their tent at this year's Eisteddfod in Conwy County last week.
Bernard has also taken advantage of every opportunity to practise Welsh in an informal setting.  He attends weekly coffee mornings in Wenvoe and has joined the Learn Welsh 'Siarad' (the Welsh word for 'speak') programme, which brings fluent Welsh speakers and learners together for 10 hours of informal conversation in social settings.
''I feel fortunate to have made friends through Siarad and the coffee mornings, and my aim is to continue to learn so I can improve my understanding of Welsh poetry. Find activities that you will enjoy doing through the medium of Welsh and the language will develop naturally!''

Bernard van Lierop