One woman and her dog learn Welsh from California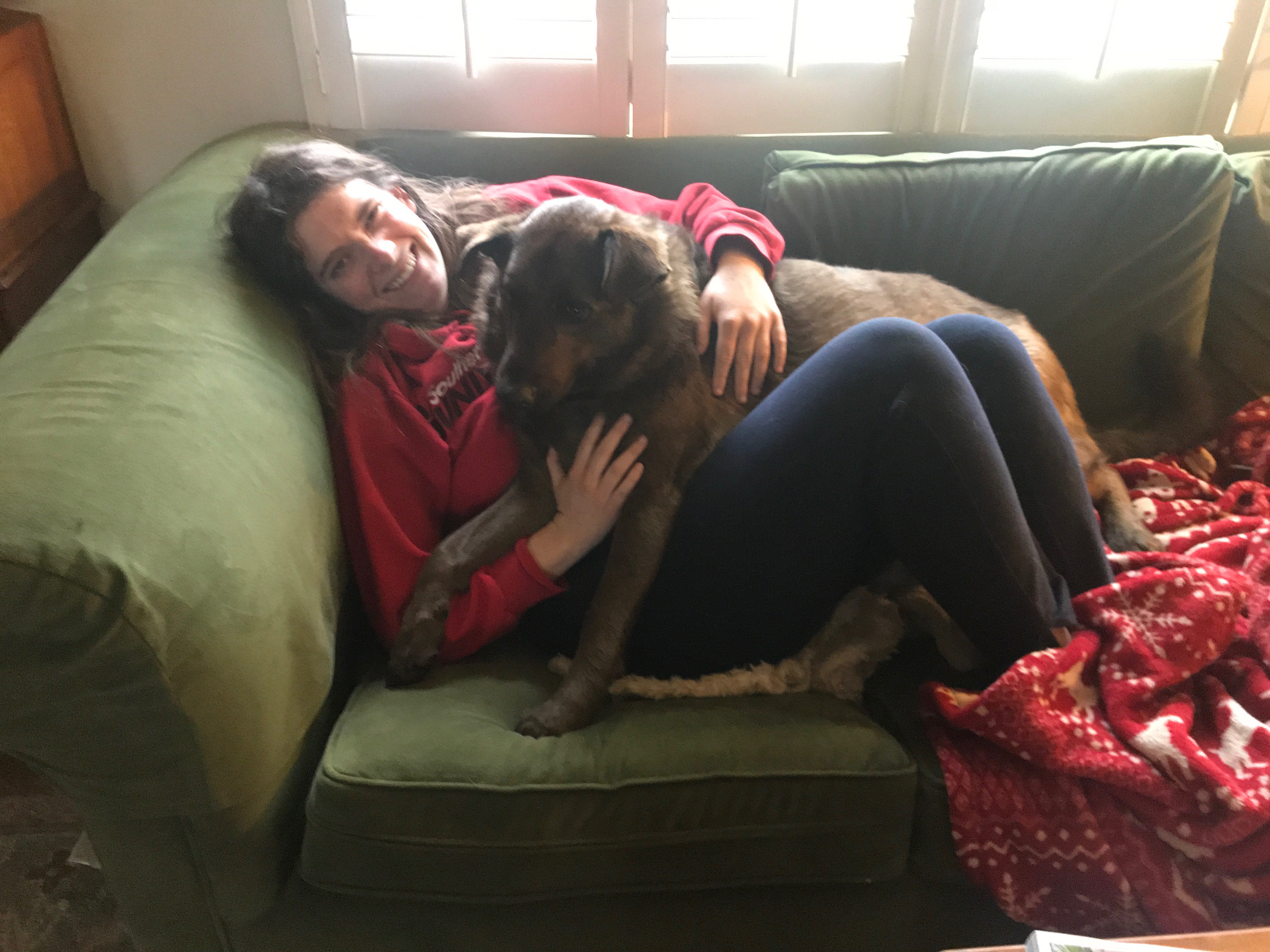 A learner has been learning Welsh all the way from California, during the early hours of the morning, with her dog, Puck, for company.
Ariel Jackson started learning Welsh a few years ago having attended a course at Aberystwyth University.  However, since lockdown, she has been learning Welsh online, as she explains;
''Before lockdown I spent four summers learning Welsh at Aberystwyth, before joining an online summer course held at 1 o'clock in the morning during the summers of 2020 and 2021.  I am now following an Advanced level course with Learn Welsh Ceredigion, Powys and Carmarthenshire, which is run by Aberystwyth University on behalf of the National Centre for Learning Welsh.  Fortunately, the course is held at 10am California-time!''
Ariel was inspired to learn Welsh after she visited Wales with her mother several years ago.  While travelling around the country, she made the decision to learn Welsh, as she was intrigued by the bilingual signposts.
Attending the weekly virtual class is one of Ariel and Puck's highlights of the week, as she explains;
''I love the virtual classes, as they enable me to learn on a regular basis, rather than having to learn everything within a month over the summer.  The tutor and other learners are so friendly and I enjoy getting to know everybody in the class.  Puck also enjoys taking part in the lesson.  He sits by my side and says 'Shwmae' and the learners respond by saying 'Hello Puck.'''
Ariel can't easily practise speaking Welsh outside the virtual class, therefore listening to BBC Radio Cymru and watching S4C Clic has been extremely valuable to her.  She enjoys watching Iaith ar Daith and Am Dro, and she listens to Galwad Cynnar and a special podcast for Welsh learners on BBC Radio Cymru called Pigion.
Learning Welsh is currently a hobby for Ariel but that may change in future;
''At the moment, I'm happy here but once I become fluent in Welsh, my goal is to work as a Welsh tutor or translator… and possibly move to Wales one day.''
A range of new Welsh courses for beginners are starting in January – for more information and to book a place visit https://learnwelsh.cymru