Record number of Swansea University Medical Students start learning Welsh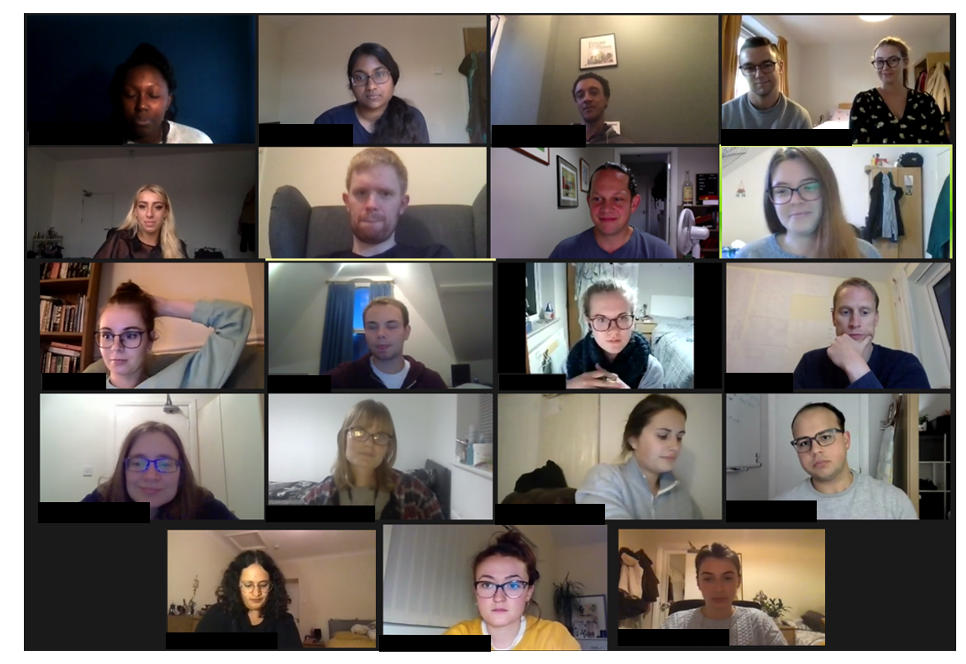 A record number of Swansea University Medical Students have taken up the opportunity to start learning Welsh. 
Sixty-two students on the University's flagship Graduate Entry Medical (GEM) course have been following weekly classes in virtual classrooms, with the aim of improving their communication skills in order to better support Welsh-speaking patients.
The students are following a new Welsh course for beginners, developed by Learn Welsh Swansea Bay Region, one of the course providers of the National Centre for Learning Welsh. 
The course introduces vocabulary and language patterns relevant to the medical profession and aims to enthuse the students, who will all attend placements across Wales as part of their four-year GEM course. 
Dr Gwenno Ffrancon, Director of Swansea University's Academi Hywel Teifi, home of Learn Welsh Swansea Bay Region, explains:
"In previous years, we've held residential Welsh courses for GEM students, which have attracted some 50 students at a time, however we're delighted to see a record number following our new course this year.
"The course will equip students with improved communication skills to better suit their working environment in Wales.  After graduation, many will stay in Wales, and we hope this introduction to the language will be the beginning of their journey to either reclaiming their skills in Welsh or to developing them afresh. Their enthusiasm to engage with the language and to add another string to their bow as practitioners is fantastic to see."
The following students share their experiences of learning the language:
Francis, a second-year student, has found having Welsh skills particularly useful in helping treat elderly patients who are suffering with dementia or delirium. She explains: "I have seen a patient, suffering with delirium, acting very agitatedly, who couldn't be consoled by staff using English, however as soon as we could communicate simple sentences to her in her first language, Welsh, she was much more responsive, and it helped to comfort and support her whilst being able to calm her down."

Francis Beynon, from Port Talbot
Catrin, a first year GEM student, says: "I plan to work in Wales for the duration of my medical career and I hope to be able to converse a little in Welsh with my Welsh patients to make them more comfortable."

Catrin Mazkouri, from Sketty, Swansea
Ruchika, a first year GEM student, explains: "I joined the Welsh language course to gain basic knowledge and to be able to confidently talk to patients both as a medical student and later as a physician. Having attended three classes to date, I've used Welsh greetings with friends and it makes them smile to see my interest in their language."

Ruchika Nongrum, from India
Giorgia has lived in Swansea for four of the five years that she has lived in the UK. She says she decided to learn Welsh because, "I believe that learning the basics of Welsh will help me build rapport with patients while on clinical placement." She adds, "Interestingly, I find some similarities with the Italian language and this has made learning Welsh even more fun. Although I will not be staying in Wales for my career, I think this is an amazing opportunity to expand my cultural horizons.

Giorgia Appolloni, from Italy
Tanvi, a first-year GEM student, has always had an interest in learning new languages, and says: "When I decided to move to Wales, one of my top priorities was to learn Welsh, especially as I knew I would be working in communities where Welsh might be the first language for many… I have really enjoyed my lessons so far, and look forward to the coming weeks."

Tanvi Thomas, from New Zealand
Emily, another first year GEM student, had never really heard Welsh being spoken prior to this course, and says: "I have recently moved in with a Welsh-speaking flatmate so he has been helping me to practise the phrases I have learned during our classes, which has been great."

Emily Cornwell, from Surrey
Theo, who has lived in Wales for the past five years, says: "Even being able to speak a few words can make the difference to some patients."

Theo de Rancourt, from Paris
A Swansea graduate, Constantinos is a first-year GEM student, who has found that the course has enabled him to feel closer to the community and Welsh culture. "Learning Welsh has given me a sense of purpose," he says. "As a future doctor, I am obliged to improve my communication skills during my medical training. This course has enabled me to do so as I now believe I will be able to interact with a greater range of patients and colleagues." He adds: "The course has also allowed me to show my respect back to a country and culture that has developed me academically and interpersonally for the past three years and will continue to do so for many years to come."

Constantinos Demetriou, from Cyprus
Learn Welsh Swansea Bay Region tutor, Emyr Jones says: "Although some of the students fully expect not to be working in Wales in the future, they appreciate the importance of learning some Welsh to use as part of their training in Welsh hospitals.  The students are so enthusiastic and recognise the importance of being able to converse in their patients' preferred language – being able to use just basic language patterns will go a long way to making patients feel more at ease."
Professor Kamila Hawthorne, Head of Graduate Entry Medicine at Swansea University Medical School, who is also learning Welsh, adds: "On being welcomed to Wales, our Swansea medical students have wholeheartedly embraced living and studying in Wales. They have shown a real enthusiasm to learn Welsh and to assimilate with the people of Wales, and we hope they will always keep a piece of Wales in their hearts!  We'd love them to stay!"