Stuart Robertson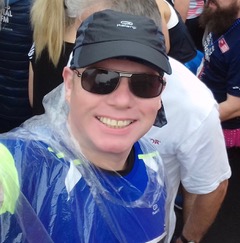 LEARNING IN LOCKDOWN
London journalist uses enforced break to learn Welsh
A road sign for Ynysybwl was one of the first things that set London-based journalist Stuart Robertson on his path to learning Welsh. 
"It was in the early 1990s and I had just moved to Troedyrhiw near Merthyr Tydfil to work for the Celtic Press, two or three years after completing a journalism training course in Cardiff," recalls Stuart, one of the growing number of people following courses in virtual classrooms overseen by the National Centre for Learning Welsh. 
"One day I was driving along and saw this sign for Ynysybwl. At that stage, I hadn't been exposed to much Welsh and I was intrigued by a language that, to my ears, had such unusual sounding place names. I've always remembered that Ynysybwl moment!"
Having been inspired by his Welsh-speaking friends, Stuart, originally from Penzance in Cornwall, decided to enrol in a weekly evening class for learners in Merthyr Tydfil College.
"I picked up the basics but didn't take it very far," he recalls. "But being a journalist in south Wales during that time, I was very conscious of the push to promote Welsh so was interested in that. I wanted to follow a summer school course but I couldn't afford to take the time off work."
Stuart, 49, went on to work as a sub-editor for the South Wales Evening Post. He also wrote sports reports for the Western Mail and Wales on Sunday before his career took him to London in 1999. He was deputy sports editor on The Independent newspaper and is now a freelance writer and editor. 
He still regularly visits Wales, seeing friends and taking holidays here. Three years ago, he took part in the Cardiff half-marathon. 
Then this year, Stuart enrolled on a new Welsh course.
"Since moving to London I'd let my Welsh slip," says father-of-two Stuart, "but when I saw that a summer school with Learn Welsh Cardiff, run by Cardiff University, was online this year I thought it would be a good opportunity, especially with more free time on my hands work-wise because of the lockdown. 
"Luckily, I still remembered enough to skip the Entry level beginners' course and go straight on to the next level, Foundation."
Stuart has just started an Intermediate level course and by May next year hopes to progress to Advanced level. "There's no point leaving it at the halfway house stage," he says.
"Online learning in virtual classrooms on Zoom has a number of benefits," adds Stuart. "To start with, it opens up the opportunity for people from around the world to learn Welsh - there have been students living in Dubai, Italy and Germany on my courses. We also have breakout groups which enhance the learning experience."
As well as conversing with fellow students in the virtual class, Stuart has extended his social network outside the formal lessons. He also watches S4C and listens to BBC Radio Cymru. "I'm a big fan of Pobol y Rhondda on S4C and hearing Valleys people speaking Welsh in an accessible way," he says.
Such is Stuart's enthusiasm for the language, that he has recently written a short story in Welsh.
"It's called Marw Am Noson Allan (Dying For a Night Out) - a horror story about zombies in Cardiff's student community," he explains. "As a journalist I'm used to writing in English but have never tried fiction before - not least Welsh language fiction. It's aimed at learners, and I've tried to avoid using words that make people pause from their reading in order to have to look them up [in a dictionary]."
Stuart has sent the story to a publisher and is awaiting feedback. 
"There's no guarantee it will be published but it was fun writing it," he says.
Ends
Notes to Editors
The National Centre for Learning Welsh is funded by the Welsh Government and hosted by the University of Wales Trinity Saint David. The Centre is responsible for all aspects of the Learn Welsh sector and works with 11 course providers across Wales, which deliver courses on its behalf
Learn Welsh Cardiff is run by Cardiff University on behalf of the National Centre for Learning Welsh.
During Lockdown, there has been an increase in the numbers learning Welsh via digital means with the National Centre for Learning Welsh and its course providers.  Around 8,000 new learners have followed online taster courses, with around 900 new learners following new national 'blended learning' courses, which combine learning in a virtual classroom with online self-study modules.
New Welsh courses in virtual classrooms are starting in January; people can also follow free online courses and access a range of digital learning resources – they can go tohttps://learnwelsh.cymru for all the information.