Yr Wyddor – Alphabet book by Welsh learner, Mark Hughes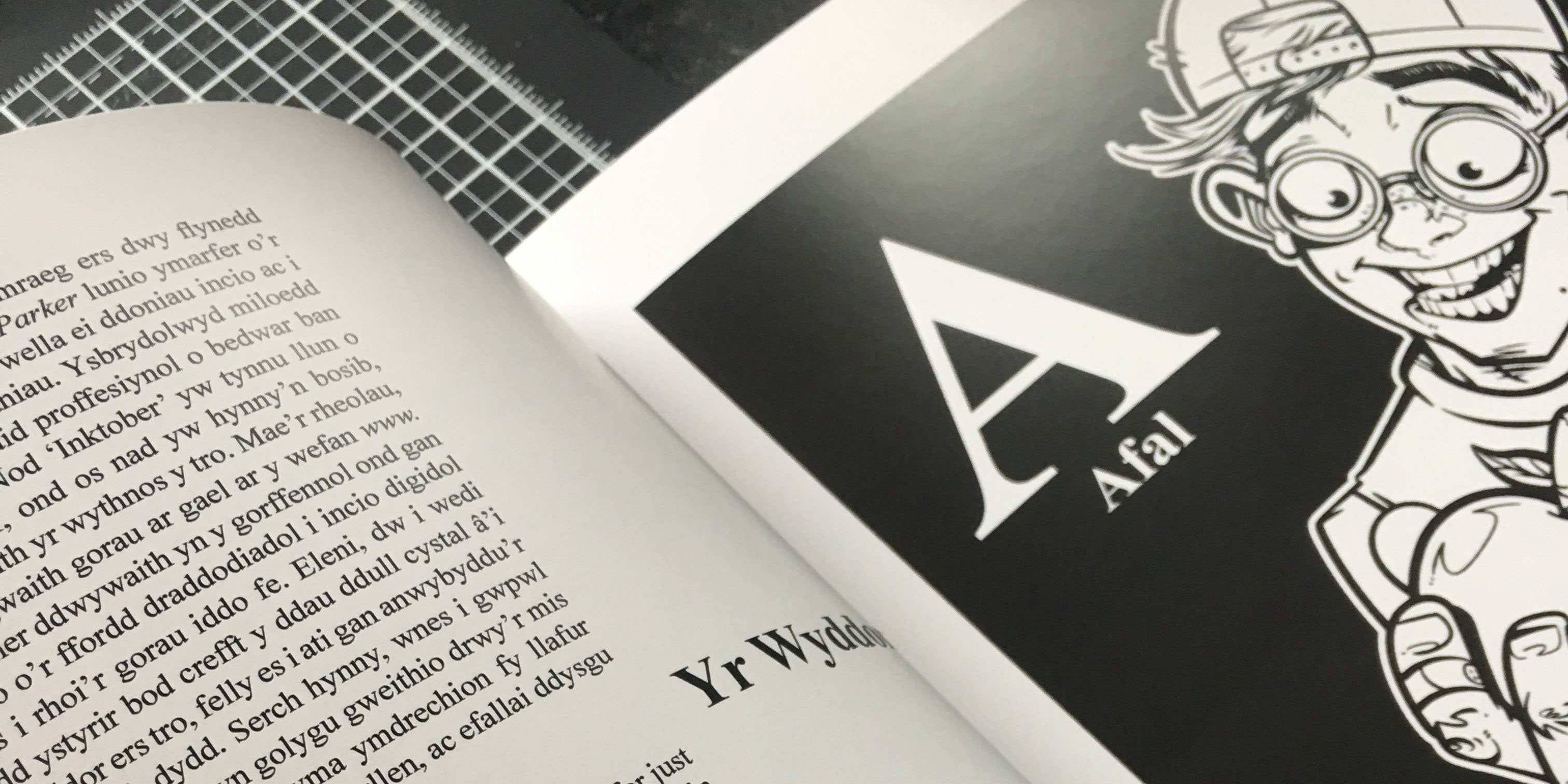 Where do you come from?
I come from Swansea, born and raised.
Why did you want to learn Welsh?
I have always thought that being born and raised in Wales, that I should be able to speak the language. I understood that my parents didn't speak Welsh, but couldn't fathom why I went to an English speaking school when there was a Welsh speaking school closer to my house. Plus I am also a massive Super Furry Animals fan, and thought it would be neat to understand the band's Welsh language songs, without having to seek out a translation.
How/where did you learn?
I walked into Tŷ Tawe Welsh Centre in Swansea and asked for information about courses - the gentleman there told me to contact Learn Welsh Swansea Bay Region. I signed up and finished the Intensive Entry level course, then last year I completed the Foundation level, now I'm half way through the Intermediate level.
When and where do you use your Welsh?
I wear my 'Learn Welsh' pin badge. I was in the pub recently and a lady saw my badge and introduced herself as a Welsh speaker who had stopped speaking Welsh years ago, but had started to learn again recently. It was fantastic to have a chat with a complete stranger who wouldn't have known about the common interest, if it weren't for the badge. I think all learners that have an interest in speaking with other learners should have these badges.
Where did your interest in drawing come from?
I had a very encouraging teacher in junior school, who was an artist himself. I used to draw caricatures of the teachers in the school and he would put them up on the wall behind his desk. I was also big on animation as a kid - I would video tape cartoons, then pause the video and try to draw what was on the screen.
Why decide to create a book about the Welsh alphabet?
I decided to create a book about the Welsh alphabet as it is something I have tried to complete in the past, but have never managed to finish. I was showing the illustrations at the time to my current Welsh tutor, Robin Campbell. Robin is an incredibly supportive tutor, and he was a big influence in completing the alphabet this time. After the illustrations started to pile up somebody said 'this could be a pretty cool book' and that's how it happened.
What's your favorite Welsh book?
I've read 'Gangsters yn y Glaw' which is a book for Welsh learners - it's an incredible feeling when you can read a whole page and understand what is being said.
What is your favourite Welsh word?
My favourite Welsh word is 'Hwntws', which is a term for 'South Walians.'
Any advice for Welsh learners?
Go to local events like coffee mornings and Saturday workshop events - Sadwrn Siarad - run by your local Learn Welsh provider. Also follow the likes of Learn Welsh and Siop Tŷ Tawe on social media. I find myself walking around, say a park, and looking at things and then trying to remember what they are in Welsh - trees, flowers, lake etc. I think this broadens and solidifies your vocabulary.
Describe yourself in three words
Part time layabout.
Additional information
'Yr Wyddor' by Mark Hughes is available to buy here.
Take a look at the book in the following video.