Work Welsh 2021 Award: Foundation+ level Learner who has made the best progress
WINNER: Mariolina Lai, Work Welsh Ceredigion County Learner
Mariolina has been learning Welsh through the Work Welsh Scheme at Ceredigion Council since 2018, and is currently on Intermediate level and continuing to make great progress. Mariolina comes from Italy originally, and chose, out of love and respect toward the Welsh culture, to take her British citizenship oath through the medium of Welsh. Studying Welsh is a joy for Mariolina. From the first lesson, she delighted in the Welsh language, and she arrives at every lesson full of enthusiasm and lifts the class' spirits weekly. Mariolina also takes advantage of Work Welsh informal activities, such as the lunch club. As a Day Care Assistant, Mariolina's success in learning Welsh is far-reaching in influence, and she ensures care of the best standard to residents through the medium of Welsh. The Work Welsh Scheme has enabled Mariolina to fulfil her ambition of living through the medium of Welsh, and working through the medium of Welsh.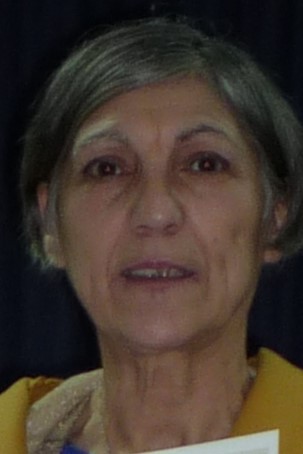 2nd: Natalie Roberts, Work Welsh Higher Education Learner (Aberystwyth University)
Natalie started learning Welsh a few years ago following moving to Wales. She works as an Outreach Officer for the Faculty of Business and Physical Sciences, and spends hours every day practicing Welsh. Over the past year, she has learnt very difficult vocabulary and language structures in a short period of time in order to build a wide range of online science materials for children of all ages. She ensures her department's website is bilingual, and has made school visits and held lessons bilingually. Natalie has made, and continues to make, great progress with her Welsh language skills.
3rd(a): Matthew Rees, Work Welsh Further Education Scheme Learner (Bridgend College)
Matthew joined the Work Welsh Scheme on Foundation level, and won the workplace's 'Welsh Language Ambassador' award in 2019. Matthew's confidence to speak and use Welsh at work is exceptional. His readiness to use Welsh with colleagues is evident, and he offers students valuable opportunities to use their Welsh. He is also very supportive of Welsh events in the workplace, attending lunch clubs to practice his Welsh, and recently, he led a quiz for Welsh learners at the college through the medium of Welsh.
3rd(b): Linda Bailey, Work Welsh Higher Education Scheme Learner (Cardiff University)
Linda started learning through the Work Welsh Scheme at Foundation level in September 2020, following self-learning previously. Her progress since then is incredible. From the beginning, she has shown progressiveness by starting conversations in Welsh, and she can confidently and interestingly chat in Welsh now. She has worked hard, and is determined to master the language. She has also taken advantage of informal activities such as attending the weekly Reading Club without fail.