Using Welsh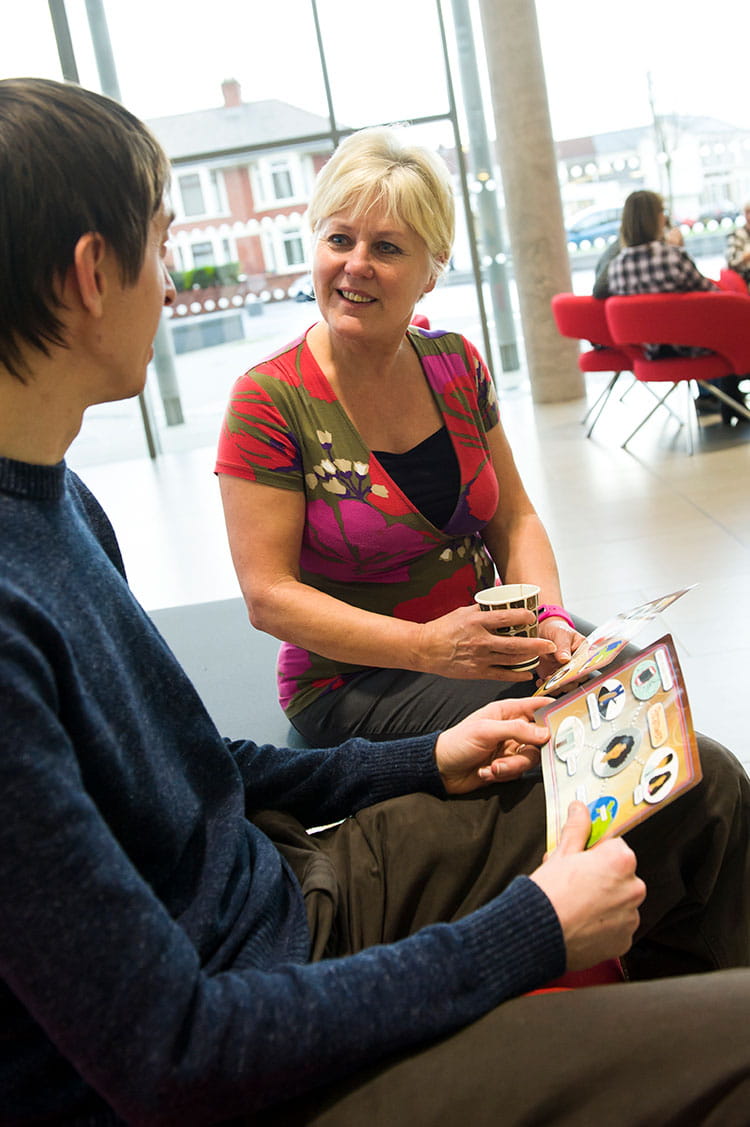 Practice and Enjoy
Once you've mastered the basics, there are plenty of opportunities to practise your Welsh.  There are 'hubs' such as Saith Seren in Wrexham, Tŷ Tawe in Swansea and Theatr Soar in Merthyr Tydfil, which organise Welsh language music gigs, walking trips and drama productions, to name just a few activities.  They also have cafes and bars where you can socialise in Welsh.
Wherever you live your local Menter Iaith should have a wealth of opportunities for you to socialise in Welsh, through classes and activities.  The Wales-wide network of local initiatives support communities to live, work and socialise in Welsh - whatever your level.
Media and Online
Don't forget you can work on your Welsh on social media, online and by just sitting in front of the TV. S4C, which broadcasts wholly in Welsh, has a new strand Dal Ati (Keep at It) for Welsh learners every Sunday morning or via the on-demand service Clic. English language subtitles are available on most of S4C's programmes. 
Why not listen to BBC Radio Cymru Welsh radio programmes, available live or on the iPlayer, download its weekly podcast for more advanced learners or follow its online service Cymru Fyw. Find out more here.
Using My Welsh Booklet
This booklet is available to help you use your Welsh in everyday life. Enjoy! 
Walking
Cymdeithas Edward Llwyd arranges weekly walking trips throughout the year. Local walking groups include Cymdeithas Eryri, Antur Stiniog, Cerddwyr Cylch Teifi and Clwb Cerdded Pontarddulais, which also offers guided walking tours in Welsh.
Folk tradition
There are over 20 folk dancing groups across Wales. You can read about the Welsh folk dancing tradition on the Cymdeithas Genedlaethol Dawns Werin Cymru website.
Trac supports and promotes Welsh music and dance. Every August, Cymdeithas Alawon Gwerin Cymru publishes a magazine called 'Canu Gwerin' and organises activities at the National Eisteddfod.
Science
One of the best places to see science at work through the medium of Welsh is the Technology Pavilion at the National Eisteddfod.
A number of science groups also use Welsh, including Cymdeithas Wyddonol Cylch Caerdydd.
Local Eisteddfodau
Over a hundred local eisteddfodau are held each year across Wales – most are supported by Cymdeithas Eisteddfodau Cymru. A number of the National Centre's providers also hold eisteddfodau for Welsh learners.
Volunteering
If you have any free time, how about volunteering? You could help out at Welsh festivals or volunteer at a historic site, where you can greet and chat with visitors in Welsh. General information about volunteering is available here. 
Siarad
If you're at Intermediate or higher levels and would like to practice your Welsh, why not take part in our Siarad scheme. 
Sport
From rugby to rowing, netball and football, sporting activities offer great opportunities to meet Welsh speakers and learners. Contact your local 'Menter Iaith' to see what's available in your area. 
Begin the bilingual journey
Over 65,000 children attend Welsh-medium or bilingual primary schools in Wales - it's never too early to start your child's bilingual journey. Cymraeg for Kids offers practical support for you and your child to use Welsh. Find out more in our guide to Welsh-medium education.
Learning Welsh outside Wales
There are opportunities to learn Welsh even if you don't live in Wales.  You can start by following the Centre's free online taster course, or use apps and digital resources such as Duolingo. Many of the Centre's providers hold residential courses over the summer - use the online search facility to find a course. Welsh societies and language schools across the UK also offer Welsh classes.
Find places in Wales with Welsh speaking staff 
A new map has been launched on the website Parallel.cymru to help you find places in Wales where the staff are able to speak Welsh. Visit shops and restaurants all over Wales where the staff will be able to speak with you in Welsh. Pob lwc! 
Useful contacts