Festival of reading gains momentum for the second year
A creative writing workshop with Anni Llŷn and a Book Fair for Parents will be among the highlights of 'Amdani', the virtual Learn Welsh Festival of Reading, which will be held for the second time by the National Centre for Learning Welsh.
Anni Llŷn will hold a creative writing workshop for learners on Thursday evening 3 March at 7pm.  The event is suitable for learners at Intermediate + levels who want to put pen to paper with the well known author and presenter.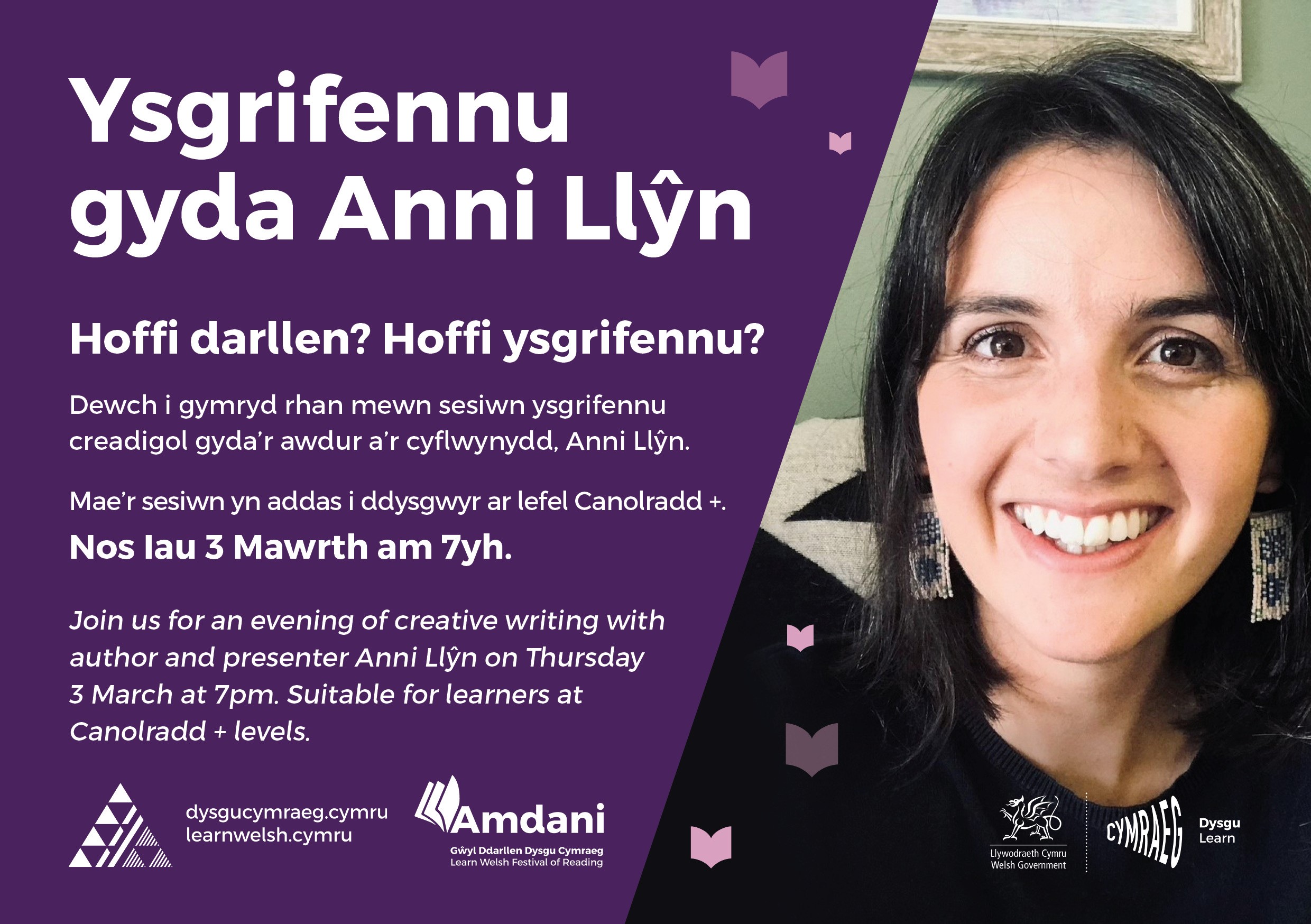 The aim of the virtual festival, which will be held between 28 February and 4 March, is to celebrate 'Amdani', the series of books for learners, and encourage learners to use and enjoy their Welsh by reading a variety of materials, whether books, magazines or websites.  Last year's festival was held on a small scale, but this year's provision promises to be bigger and better.
Parents who are learning Welsh will be given an opportunity to learn more about the wide variety of books available for their children, in a virtual book fair held as part of the festival.  Other highlights include a gig by Robat Arwyn, book club with author Sarah Reynolds, and a chair yoga session with Laura Karadog and Catrin Jones.
To celebrate Saint David's Day, the Centre will hold a coffee morning with Welsh Learner of the Year, David Thomas.  Learners who attend will be able to donate to meddwl.org charity and the Eisteddfod Ceredigion 2022 'Welsh Learner of the Year' competition will be launched.
The Centre will also publish a podcast between Jo Heyde, a finalist in last year's 'Welsh Learner of the Year' competition, and author Caryl Lewis.  Brand new stories for learners will be published by authors Pegi Talfryn and Lleucu Roberts, and well known faces will reveal their favourite books, and the reasons for their choices on video.
A story writing competition is also being held as part of the festival, in cooperation with the National Eisteddfod, and the winning stories will be published during the festival.  Daily articles tailored especially for learners will be published on Golwg 360, and various other partners, including BBC Radio Cymru and S4C, will also be supporting the festival. 
The Books Council of Wales will publish a reading list for experienced learners during the festival.
Reading is a great way for our learners to enjoy using their Welsh, and the festival will highlight the rich variety of books, websites and other interesting reading materials available through the medium of Welsh, including the successful book series 'Amdani.'  A range of events and activities are being held this year, and we're certain the timetable offers something for learners at all levels.

Helen Prosser, Director of Teaching and Learning at the National Centre for Learning Welsh