Gower farmer learns Welsh to boost family business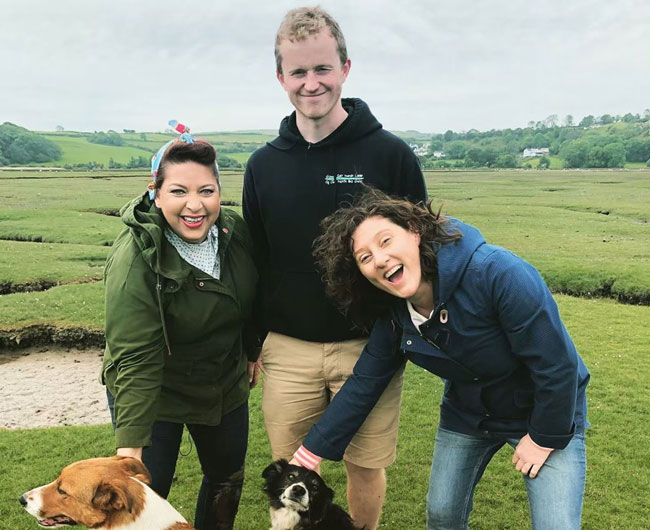 A farmer from the Gower Peninsula is dedicating his spare time to learning Welsh, and hopes that being fluent in the language will benefit his family business, Gower Salt Marsh Lamb.
Will Pritchard, who lives in Llanmorlais, had always wanted to learn Welsh from a young age, but took the plunge in 2017, and now attends a weekly Foundation level class in Gorseinon, with Learn Welsh Swansea Bay Region, run by Swansea University, on behalf of the National Centre for Learning Welsh.
Gower Salt Marsh lambs graze on the North Gower Salt Marsh and they get a very distinctive flavour from Samphire, Sorrel, Sea Lavender and Thrift.  This special flavour is sought after by chefs and food connoisseurs alike including Delia Smith, and is distributed all over Wales and further afield.
The family business has made a name for itself over the past few years, and Will has made several television and radio appearances including 'The Incredible Spicemen', and 'The Kitchen Cabinet with Jay Rayner' on BBC Radio 4.  Next year he'll appear on 'Sam and Shauna's Big Cook-Out' and hopes that speaking fluent Welsh will raise the business' profile even further;
''I do believe that improving my Welsh language skills will benefit the business in so many ways in future. I already make the most of every opportunity to practise my Welsh with customers and I have started to post bilingual items on our social media pages. Who knows, we might even appear on S4C one day!''
Will's tutor, Sandra Evans said:
''It has been wonderful to witness Will's progress over the last couple of years and I look forward to welcoming him to the Intermediate level course once he successfully completes the Foundation level. I hope he continues to use Welsh within the business and becomes a confident and fluent Welsh language speaker.''
To find a Welsh course or opportunities to practise your Welsh, go to learnwelsh.cymru. Get started with our free online courses, which are also available on our website.
Image: Will Pritchard on the farm with Sam and Shauna from 'Sam and Shauna's Big Cook-Out.'