Retired nurse and Welsh learner returns to frontline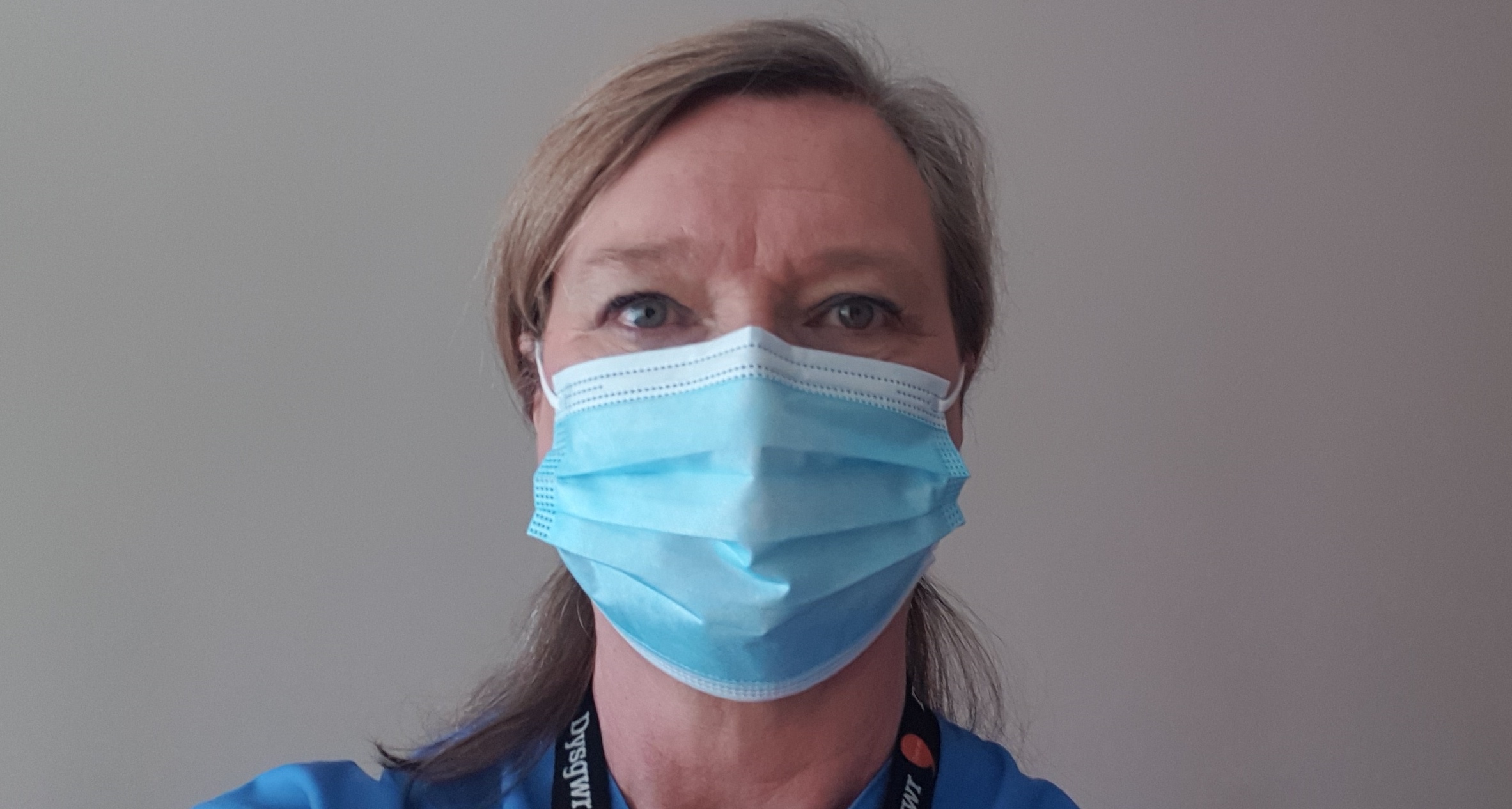 A retired nurse has recently returned to the NHS to help with the COVID-19 vaccine programme, all the while continuing with her goal of learning Welsh.
Jacqui Reynolds who lives in Aberdare, worked as a neonatal nurse in Swansea and Glamorgan and as a health visitor in Cwm Cynon, before retiring last year.  She has recently been retrained to help with the immunisation programme, as she explains;
''Due to my previous experience, my training was updated on vaccination and more importantly learning about the vaccines, how they work and ensuring they are administered safely.''
Prior to COVID-19, Jacqui attended Learn Welsh lessons and enjoyed taking her grandson to the local Cylch Meithrin Welsh language nursery group, where she made the most of the opportunity to speak Welsh.  Jacqui has carried on learning and now attends an Intermediate level course, which is delivered online, in a virtual classroom, with Learn Welsh Glamorgan, run by the University of South Wales on behalf of the National Centre for Learning Welsh.
Jacqui says that the online lessons work well;
''Learning Welsh via Teams has now become normal and I thoroughly enjoy it.  During lessons, you don't just learn the language but understand more about Welsh culture.  My advice to learners is don't be put off, time can be a factor for many but there are classes in the daytime, evening and weekend available.  Our tutor is great, and she makes the most of the equipment available by incorporating fun music slides and much more into our lessons.''
Jacqui's tutor is Eluned Winney, who says;
''Our class is very proud of Jacqui's return to work to support the vaccination programme.  During her recent training, she has managed to attend every class, even after a hard and tiring week.  It's been wonderful to see her confidence grow when speaking Welsh, and I know that her Welsh speaking patients will be appreciative of her ability to speak with them in Welsh.''
Jacqui hopes to continue to learn Welsh and practise speaking Welsh out and about again once life returns to normal;
''Due to COVID-19, I don't use my Welsh language skills as much as I would like, as there have been less opportunities to meet people face to face and I no longer attend the Cylch Meithrin with my grandson.  This year, I sincerely hope things will change, and that I'll be able to put all I've learned in class into practise in informal settings on a regular basis.''