Retired rugby correspondent gives learning Welsh a second chance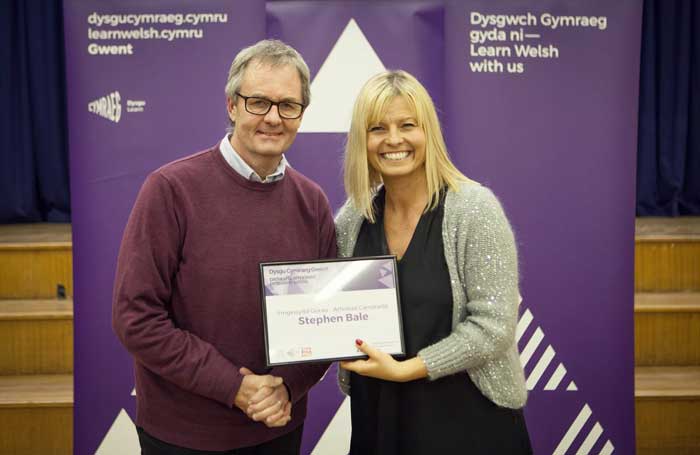 A former rugby correspondent has spent the best part of the last two years learning Welsh, after having lost the language nearly four decades ago.
Stephen Bale, who moved from Taunton, Somerset to Magor in 2016, is learning Welsh with Learn Welsh Gwent, which is run by Coleg Gwent on behalf of the National Centre for Learning Welsh.
Stephen completed a beginners course in the 1970's in his home town of Neath, but as his career developed and took priority, he had little time to continue learning Welsh.
Over the years, Stephen has worked for the Neath Guardian, South Wales Evening Post, the South Wales Argus and The Western Mail.  More recently, his career with The Independent, The Express and The Sunday Times took him overseas to report on over 500 international matches and eight Lions' tours.
Since his retirement, Stephen has been determined to make up for lost time, and now attends a weekly Learn Welsh course for experienced Welsh learners with tutor, Helen Young in Caldicot. 
Thanks to Helen, Stephen has won this year's national prize for experienced Welsh learners awarded by Merched y Wawr (the voluntary Welsh-medium organisation for women in Wales);
''I wrote an essay entitled 'Discovering the Welsh language' which Helen submitted to the competition. The piece focused on my disappointment at losing the language all those years ago, and how that has spurred me on to improve and become a fluent speaker.''
Stephen makes the most of every opportunity to use Welsh on his doorstep.  He attends local Welsh language events and regularly visits the new Welsh Centre, Tŷ Croeso in Chepstow.  Participating in 'Siarad' (the Welsh word for 'speak'), a voluntary programme that matches fluent Welsh speakers with learners, who meet for 10 hours to chat in Welsh outside the classroom, has also played a key part in Stephen's progress;
''My Siarad partner, Ben Jones has been very patient! Being in the company of a fluent speaker in an informal setting has been a great help and boosted my confidence enormously. He's encouraged me not to be shy, and without his support, successfully passing my latest Learn Welsh oral exam would have been a greater challenge.''
After completing the course for experienced Welsh learners, Stephen hopes to continue to learn and improve.  But, as he explains, the ability to speak the language is what's important;
''Speaking the language is key and I will continue to use my Welsh as often as I can. Confidence can be the most difficult thing when learning Welsh, confidence to try and confidence to make mistakes. Losing Welsh was by far one of the biggest mistakes I ever made, but as my experience proves, it's never too late to start learning!''
To find a Welsh course or opportunities to practise your Welsh, go to learnwelsh.cymru. Get started with our free online courses, which are also available on our website.
Image: Stephen Bale with Nia Parry, who presented him with a certificate following his Intermediate level Learn Welsh exam.