Unicyclist learns Welsh and turns life upside down after Antarctic encounter
A former employee of the Antarctic Survey is now living and raising his family through the medium of Welsh, and has even set up a bilingual unicycle hockey club in Cardiff.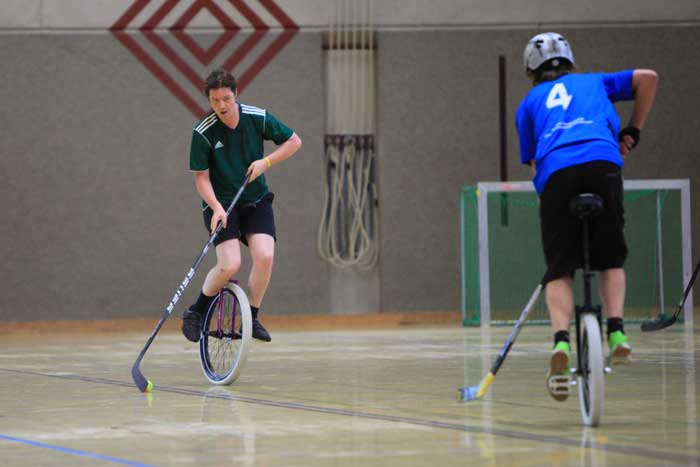 Ben Tullis, originally from Hastings, who now works for website OpenCorporates Ltd, met his wife, Nerys, on board a voyage to the Antarctic where she worked as a doctor, and Ben soon made the decision to turn his life upside down;
''We fell in love while travelling in the Antarctic and after I returned to my narrowboat in Cambridge, where I lived at the time, I knew I had to make a life-changing decision. I followed my heart, moved to Wales and began learning Welsh. Fortunately, Nerys agreed to marry me the following year!''
Ben currently attends a Learn Welsh course with Learn Welsh Cardiff, which is run by Cardiff University on behalf of the National Centre for Learning Welsh.  Ben is determined to continue to learn Welsh for as long as possible;
''Both Nerys and I speak Welsh at home with Eirwen, five, and Mostyn, three, who attend Ysgol Melin Gruffydd primary school in the Whitchurch area of the city. The children love to correct me whenever I make mistakes therefore I must persist and become a really fluent Welsh speaker to keep one step ahead of them!''
Setting up a bilingual unicycle hockey club has enabled Ben, and his fellow team mates, to practise their language skills outside the classroom.  Unicycle hockey has been a passion of Ben's since he was a teenager growing up in Hastings, and thanks to him, Cardiff Unicycle Hockey Club has grown in numbers, and sucessfully recruited many Welsh learners over the years.
Ben believes that learning Welsh has been one of the best decisions he has ever made and would encourage anyone thinking of learning the language to give it a go;
''If you start learning Welsh, you won't regret it! Use the language whenever and wherever you can as practising your skills can only build your confidence. I know that I will use the language skills I have gained for the rest of my life, and I will always be thankful for what Welsh has given me.''