Work Welsh FE/HE Pilot Project
Work Welsh in Further Education
Work on the Further Education Work Welsh Pilot Project is running between October 2017 and the end of April 2018.
Our objective is to increase the use of Welsh in Further Education Colleges as a teaching medium. With over 150,000 learners attending Further Education Colleges during 2014/15, this is a positive step towards the Welsh Government's target to reach a million Welsh speakers by 2050.
We will measure success by looking at the capability and confidence of the lecturers to lecture through the medium of Welsh at the end of the project.
Contact on cymraeggwaithAB@hotmail.com if you have any questions or follow our progress on twitter @CGAB_FEWW
Work Welsh in Higher Education
Sponsored by the National Centre for Learning Welsh, this scheme is co-ordinated by the Coleg Cymraeg Cenedlaethol, and it forms part of the wider Welsh Language Work Scheme run by the National Centre for Learning Welsh.
The first pilot scheme starts in October 2017 and will end in March 2018. Eight language tutors have been appointed to work with a minimum of 100 HE members of staff across Wales.
Aim of the Scheme
The aim of the scheme is to give higher education staff the opportunity to develop their language skills in order to enable them to increase their use of Welsh at work. For the purpose of gauging progress, each learner's level of proficiency will be identified at the beginning and end of the scheme. The scheme is open,and free of charge, for staff of all levels of proficiency, whether they are starting out or more experienced learners.
This scheme is extremely flexible and the learning method varies from organization to organization.
Universities
Eight universities have agreed to take part in this scheme:
Cardiff Metropolitan University
University of Wales Trinity Saint David
Further Information
If you are a member of staff at one of the above universities you may have already received information about the scheme.
If you are unsure which member of staff is responsible for its running at your university please contact Owen Thomas at the Coleg Cymraeg Cenedlaethol: o.thomas@colegcymraeg.ac.uk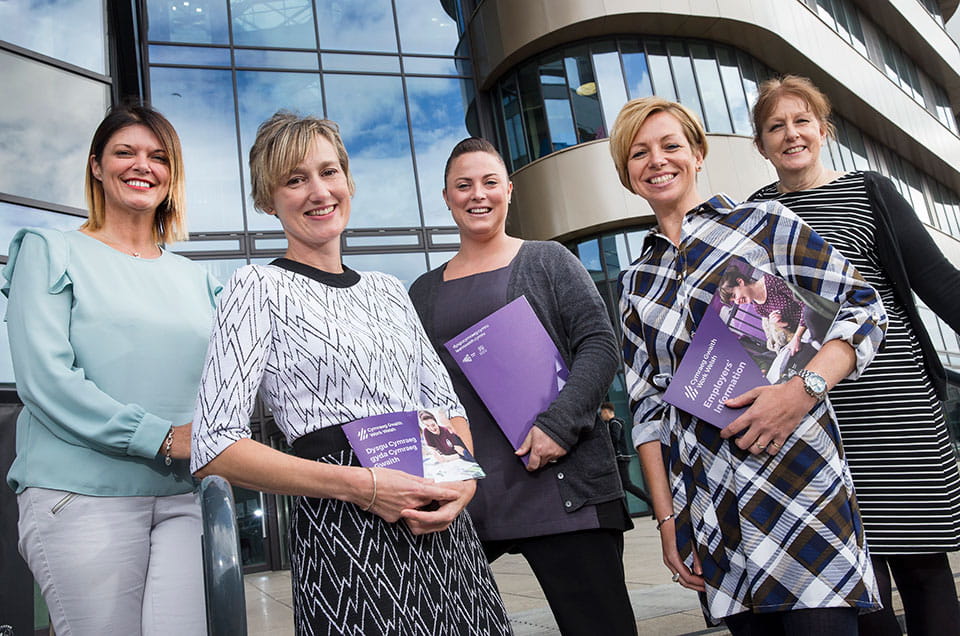 Picture caption (above)
From left to right: Karen Davies, lecturer in Child Care at Cardiff and Vale College, Efa Gruffudd Jones, Chief Executive of the National Centre for Learning Welsh, Catherine Palmer, Lecturer in Complementary Therapies at Cardiff and Vale College, Nicola Buttle, Cardiff and Vale College Welsh Curriculum Co-ordinator and Alison Grainger, Lecturer in Child Care at Cardiff and Vale College.
Karen, Catherine and Alison will be undertaking Welsh language training as part of the new scheme.