Work Welsh Promotional Tour
Glastir, Llanrwst 30/7/2019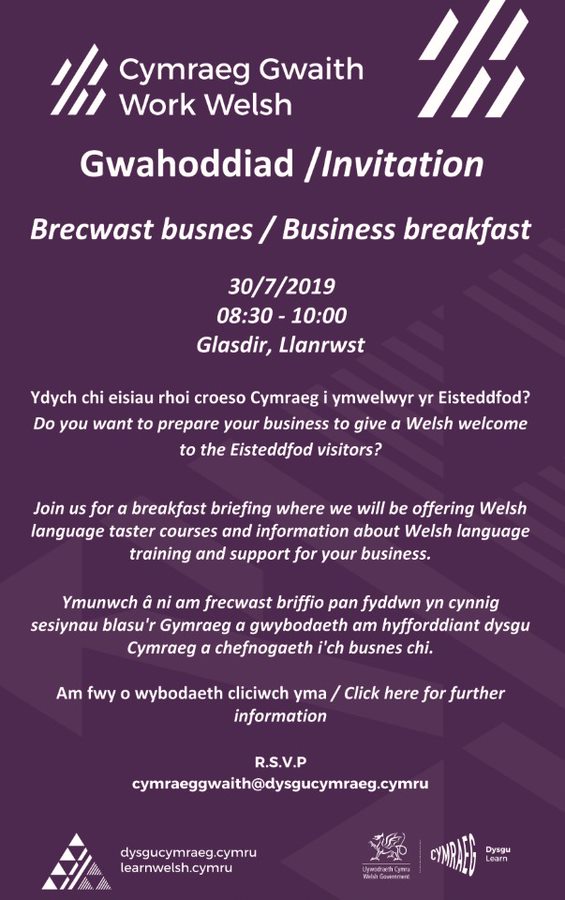 What is Work Welsh
The Work Welsh scheme provides a service for employers to ensure that their staff can learn Welsh and use it in the workplace.
A range of services are offered as part of the scheme – supporting the employer and employee, and the scheme is funded by the Welsh Government.
The scheme is split into different sections. For more information on the scheme.  Watch these videos.
Welsh in Business
There's a strong business case for companies to use the language and there's more support than ever before to help businesses, large and small, to do that easily.
Welsh in Business Support Officers:
There are 10 Welsh in Business (Cymraeg byd Busnes) officers who can help you use more Welsh in your business free of charge. They provide a bespoke service offering practical advice and tools as well as helping you find further relevant support. 
Your local Support officer will be at the event on 30/7/2019.
For more information on the Welsh in Business scheme, click here.
To register to attend the event please email cymraeggwaith@dysgucymraeg.cymru.